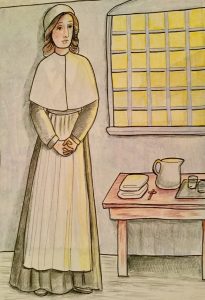 Jeanne Mance was born on November 12, 1606 in the town of Langres, in Champagne. The same day, she was baptized in the church of Saint-Pierre-Saint-Paul. She is the second of twelve children of Charles Mance, procurator of the King of France in Langres, and Catherine Emonnot, daughter of the procurator Laurent Emonnot. At the age of 16, seriously ill, she is narrowly saved by doctors. Her health was predicted to be fragile for the rest of her life.
Jeanne is very active in this family of the dress bourgeoisie, and in her father's law firm. Her father died at the beginning of the summer of 1630, followed by her mother, two years later, in July 1632. With her sister Marguerite, Jeanne will have to work in order to ensure the subsistence of her minor brothers and sisters.
Having no inclination for religious life or for marriage, Jeanne learns the trade of caretaker, devoting herself to the victims of the Thirty Years War and the plague, two plagues that ravaged Langres in the 1630s.
In 1640, Jeanne hastened to visit a cousin priest whom she loved very much, Father Nicolas Dolebeau. The young man maintained her from New France. He recounted the prodigious vocation of Mme de La Peltrie and the Ursulines she was taking to New France. He told him how Madame de La Peltrie had been miraculously healed after having promised Saint Joseph that if he cured her, she would devote her life to Canada.
    He also recounted how St. Mary of the Incarnation had a dream in which she saw herself going into a wild country with Madame de La Peltrie and that St. Joseph appeared in the dream to show her the way. Then she heard the voice of God say to her: "This is the Canada I showed you. I want you to go there to found a house for Jesus and Mary.
    After hearing these things, Jeanne Mance decided to go to Canada. Thank God, the following year, she met a gentleman, Venerable Jérôme le Royer, sieur de la Dauversière, when she entered the Jesuit church. They exchanged a glance charged with an extraordinary clairvoyance, for, as the True Motives say, "having greeted each other without ever having seen or heard of each other, in an instant God impressed upon their minds a knowledge of their interior and of their plan so clear, that having recognized each other, they could do nothing else but thank God for his favors". Jérôme Le Royer said to him: "Heaven had instructed me about your visit! "Then Jerome told him how he had had a vision of the Holy Family, asking him to found a city on the island of Montreal to evangelize the Indians.
    Monsieur de Maisonneuve and Jeanne Mance set out to found Montreal. When they arrived in Quebec City, people called them crazy for wanting to found a city on an island not far from the Iroquois. Monsieur de Maisonneuve said: "It is my honor to accomplish my mission, should all the trees on the island of Montreal change into as many Iroquois.
    Montreal was founded in 1642. However, the St. Lawrence River was overflowing, threatening to destroy the work so painstakingly accomplished. So Maisonneuve stood up and made a vow. He promised to put a cross on Mount Royal if the flood stopped. The river became calm again.
   On March 30, 1644, watchdogs trained to detect the approach of the Iroquois began howling towards the woods. The French, tired of hiding, asked Maisonneuve to initiate an attack. Maisonneuve led a small group of 30 men out of the woods. They found themselves surrounded by about 200 Iroquois and a very uneven battle ensued. The French fought bravely, but when they ran out of powder, they fled to the fort, leaving Maisonneuve behind. He was attacked by one of the Iroquois chiefs, and a violent hand-to-hand combat ensued between the two men. The Iroquois attempted to slit Maisonneuve's throat, but Maisonneuve opened fire on the Indian at close range and the attacker fell dead. The Iroquois warriors stopped the attack, took their chief on their shoulders, and retreated. Maisonneuve returned to the fort as a hero. As the number of French soldiers was running out, the venerable Jeanne Mance gave up her entire reserve of money so that Monsieur de Maisonneuve could go to France to recruit soldiers.
    In 1652, during his trip to France, Monsieur de Maisonneuve visited his sister (who was friends with Saint Marguerite Bourgeoys). He invited Sainte Marguerite Bourgeoys to come and found a school. Marguerite Bourgeoys was hesitant, but finally accepted the task after the Virgin Mary appeared to her and said, "Go, I will not abandon you".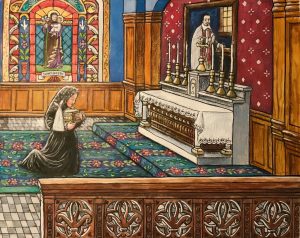 A few years later, on January 28, 1657, upon returning from mass, Jeanne Mance fell on the ice, fractured her right arm and dislocated her wrist. This fall had serious consequences. The doctors were able to heal the fracture but did not notice the condition of the wrist; although healed, Jeanne Mance was unable to use her arm. Because of this infirmity, she had to consider getting a replacement for her arm at the hospital. However, she waited for the return of Mr. de Maisonneuve, who left for France in 1655. He was not to return until the end of July 1657, in the company of the first parish clergy of Ville-Marie, which would consist of three Sulpicians under the authority of the abbot of Queylus. But misfortune would have it that Mr. Olier, who had himself chosen these four missionaries, died only a few days before the priests boarded the ship. Jeanne, who had hastened to consult Mr. de Maisonneuve on her arrival, had to postpone her trip to France until the following year. Her state of health left much to be desired. She left in the fall of 1658, in the company of Marguerite Bourgeoys, who had become her faithful friend. Upon her arrival in France, Jeanne went to pray at the tomb of Father Jean-Jacques Olier, founder of the Sulpicians, who had been a great help to them in their endeavour to found Montreal. Taking the box that contained the heart of the holy priest, Jeanne was suddenly healed. She will be able to return to Montreal, with Saint Marguerite Bourgeoys, to continue their great mission.
In spite of her illness, she wrote a will herself starting in May 1669 and ending on February 16, 1672. She died on June 18, 1673. In her will, she bequeathed her heart to the people of Montreal and asked the Hospitallers to take care of her body. Her remains are placed in the crypt of the chapel of what is now the Hôtel-Dieu de Montréal, where they still rest today.