The statue of Mary which bowed the head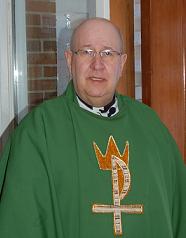 On May 13th 2017, Father Michael McGowan organized a high mass in honor of Our Lady of Fatima for the 100th anniversary of the apparition in Portugal. The mass was celebrated at Our Lady of Fatima's church in Fredericton, in New Brunswick. Father McGowan invited the Bishop to preach at the mass. A statue of Our Lady of Fatima was placed behind the pulpit. As the Bishop was preaching, each time he would praise Mary, the statue bowed her head towards him (the Bishop didn't see her since she was behind him). At first, the congregation thought that the statue was falling over. Then, they realized that she was miraculously bowing her head towards the Bishop.
Testimony from Mrs. Dana Grondin, an eyewitness:
  "It was October 13, 2017, the Centennial of the Miracle of the Sun in Fatima, Portugal; and our Father's dreams for this day were realized. Our little church, the only one in the province of New Brunswick dedicated to Our Lady of Fatima, was filled to capacity and more. Men scrambled to the basement to find chairs for those who found the pews filled to overflowing.  All was as we'd hoped: Bishop Robert Harris was in attendance, and the church was full of the faithful from our city of Fredericton, and many other cities and towns in the diocese.
    For several years, there had been growing tensions within the diocese. Mass attendance in New Brunswick churches had been steadily dropping for decades, and Bishop Harris found himself in the terrible situation of being advised to close churches and amalgamate parishes. The process was long and painful for clergy and laity alike, and many resented the Bishop for the unfortunate circumstances we found ourselves in. For this reason, we were unsure of whether the bishop would accept our invitation to mark the centennial with us, and it was in this air of tension that our pastor,  Father Michael McGowan, urged his parishioners to be good hosts to our beleaguered bishop; to be welcoming, charitable, and respectful to our appointed shepherd.
    I was a teacher at a local, private Catholic school, and our students were scheduled to sing some of the hymns during Mass. Because I was helping with the students, I sat in the overflow area at the back of the church, giving me a wider view of the church and altar than I usually have, sitting with my family in the front pew.  As Bishop Harris moved to the pulpit to begin his homily, I was anxious to hear what he might share, regarding the fate of our troubled diocese, and noticed an increase in tension in the crowded church. However, Bishop Harris left all of our concerns aside and delivered a beautiful homily about Our Lady and Her apparitions to the children of Fatima.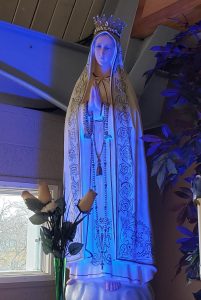 About halfway through his homily, movement caught my eye, diverting my attention from the bishop's face. I gave a small gasp, because I thought that the beautiful statue of Our Lady of Fatima, which was just behind Bishop Harris, was falling over. As I looked, it seemed that the statue was bowing Her head toward the bishop, just as he was speaking so lovingly about Her. I immediately thought: "She's demonstrating the reverence that She wishes us to hold him in." I thought that this was an interior message that I'd seen, a lesson in clerical dignity for myself, until Fr. McGowan announced, at the reception following Mass, that a young woman had also seen the statue moving.
    When the final decisions were reached for the fate of the churches in our diocese, we were told that all of the Fredericton area churches were to be amalgamated into "super-parishes", with the exception of Our Lady of Fatima Church, which was to be closed and disposed of. Needless to say, our parish was devastated. Father McGowan, however, was undaunted. He immediately led our parish in a perpetual novena to Our Lady of Fatima. After months of prayer, Our Lady granted us a second miracle. Not only, was our parish saved from closure, but it is the only parish in our diocese which remains independent, with Father McGowan being assigned as permanent pastor.
    The statue of Our Lady of Fatima now stands in a side altar of Her church, with relics of Sts. Jacinta and Francisco at Her feet. She is visited daily by Her grateful children. Our parish is growing steadily, with many new converts, and families driving several hours from other cities to attend Mass with us. It seems to me, that the miracles of Our Lady of Fatima have only just begun.
Dana Grondin
December 21, 2020
Sources: 
Accounts sent to Father Jacques Breton, FSSP, from eyewitnesses