The statue of Mary that smiled
 Beginning of a religious community :
    The story goes that one day, two teachers of French Canadian origin, but who lived in Sainte-Anne Parish in Massachusetts, asked the permission of Father Alexis Delphos, parish priest of Saint Denis Parish in East Douglas, of which Sainte-Anne was a mission, to make simple religious vows and to wear the habit of the Third Order of Saint Francis. Having taken the habit, they made vows for one year and continued to teach. Joseph Brouillet, parish priest of Our Lady of the Canadians in nearby Worcester, who planned to open an orphanage and needed a religious community to run it. The community adopted Franciscan spirituality. The orphanage opened its doors in 1889 with the support of the local Canadian and Irish communities. It housed twenty orphans, as well as two very sick elderly women.
A community being tested:
When one of the founding members, who had been superior, left, the sisters elected Marie-Joseph Rondeau, the first novice of the community. Faced with the mismanagement of Brouillet, on the advice of friends and benefactors, on September 10, 1890, the Sisters asked to be incorporated under the name of Oblate Sisters of St. Francis of Assisi. But the new foundation was still fragile. Some foundresses even began to believe that their new community was not wanted by God.
The statue of the Virgin which spoke :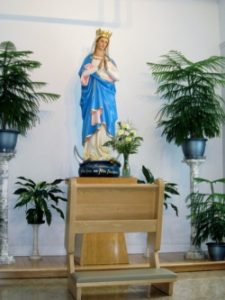 One day in 1891, when the situation of the nascent community seemed desperate, Mother Marie-de-Bon-Secours, one of the foundresses, was praying before a statue of the Blessed Virgin, when suddenly she saw her smiling at him and pronouncing these words of confidence: "Walk, my little sisters, you will succeed!". In this way the faith of the group was singularly strengthened.
In Baie-Saint-Paul, Quebec :
Later that same year, Father Ambroise Fafard sought the help of Oblates to assist him in his house in Baie-Saint-Paul, Quebec, which he converted into Hospice Sainte-Anne in order to welcome abandoned needy people. Four nuns from Worcester, Massachusetts answered his call and came to Baie-Saint-Paul. They brought with them the Virgin of Smiles. Soon, other sisters joined the community. They pronounced their vows by taking the name of Little Franciscan Sisters of Mary.
Sources:
https://en.wikipedia.org/wiki/Little_Franciscans_of_Mary