When the potatoes turn into stones
In Rigaud, a long time ago, there lived a few peasants, hard-working and believers. Each lived in peace and quiet according to the seasons, cultivating the land in summer, stocking up on firewood in the fall in preparation for winter.
   One day, a stranger came to settle in the village. He was not very talkative. No one knew where he came from.  He had no known family or friends. He looked mysterious and people were suspicious of him. Those who questioned him got no answers and were shouted at harshly. He did not tolerate any intrusion into his private life. He obviously did not want to talk about his life in detail. He never went to church.
    That was all it took to arouse the curiosity of the peasants of Rigaud. Stories began to circulate about him. Mothers frightened the children to prevent them from going out at night. He was nicknamed José-le-Diable. He quickly took the place of the "Bonhomme Sept-heures".
    One Sunday, he was seen going to his fords (fields being ploughed), instead of going to Sunday Mass. Never seen before! We warned him, even the village priest got involved, but he preferred to dig his potato field. For Jose the Devil, going to mass was a waste of time.
    – It will bring you bad luck, what you do! You'd better come to mass," he was told.
– Go to mass! That's it! And who will sow my field?
Without waiting for an answer, Jose the Devil continued on his way.
    – Go to Mass, he thought to himself. Let them all go to mass, if they want to! Do they think that the good Lord will bring them bread this winter? Let them go to Mass, if that's all they have to do!
Today, I have to work…
    When he arrived at his field, his carriage came to a complete stop. The church bells started ringing as if to send him a message. He began to sow his field, but he did not feel very comfortable. He always had the words of the peasants and the priest in his mind. To give himself courage and to forget these words, he began to blaspheme and swear. It was then that thousands of stones fell from the sky on Jose the Devil and his field. Some people say that the potatoes turned into stones, which is why many of the stones are shaped like potatoes. Also, some say that the man disappeared mysteriously, as if the earth had swallowed him up. No one dared to venture out into the field for a very long time.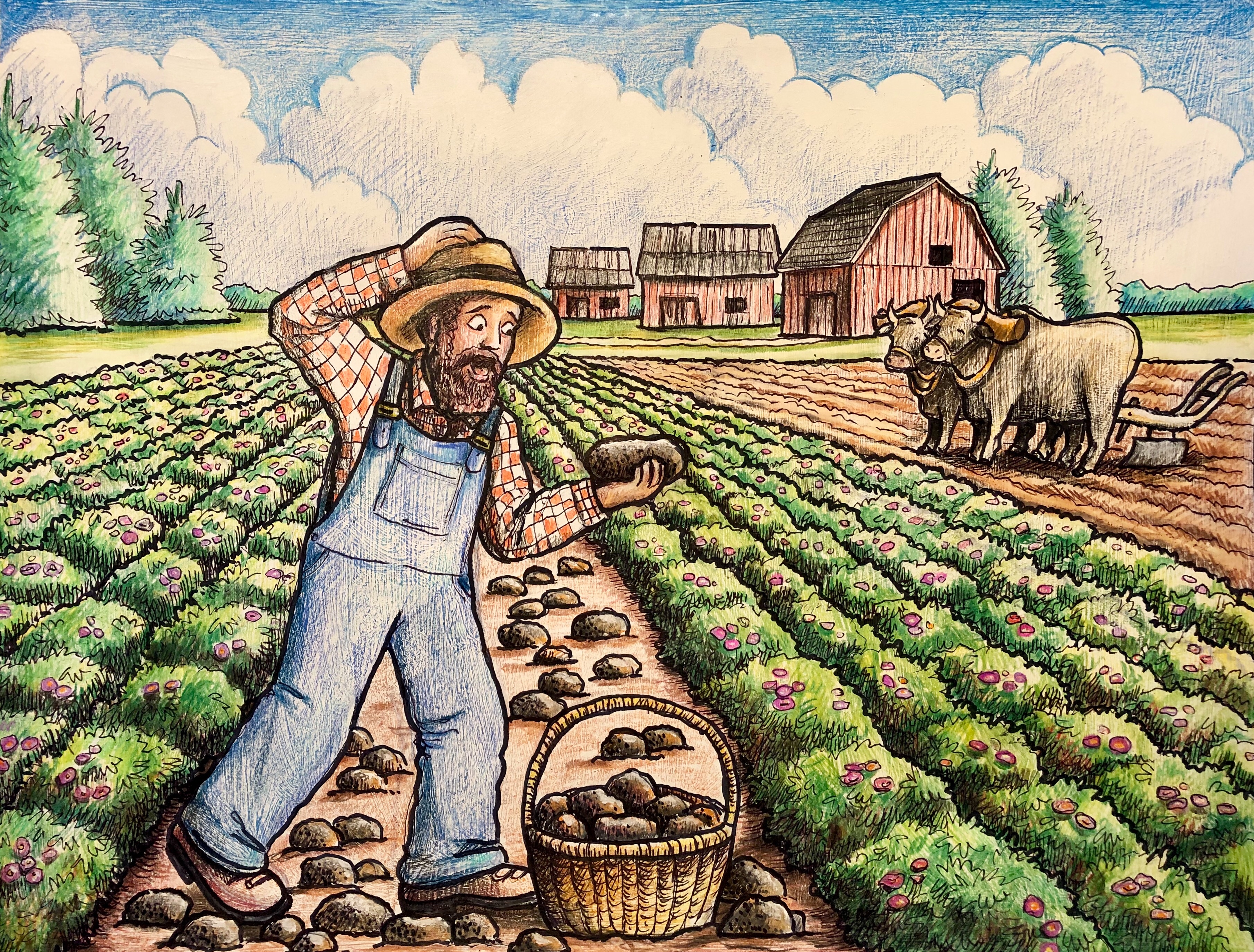 These pebbles still exist today. They are a reminder that one should not work on Sundays. The ones that most resembled a potato were spread across the country. Sisters even painted Notre-Dame-de-Lourdes on one side of some of the stones.
The Shrine of Our Lady of Lourdes: 
"Only sixteen years after the apparitions of the Virgin to Bernadette Soubirous, Our Lady of Lourdes began to be honored at Rigaud. This devotion to Mary, which today attracts more than 100,000 people annually, is due to the initiative of a modest religious, Brother Ludger Pauzé des Clercs de Saint-Viateur. The latter, in 1874, built a niche on top of a wild rock that was difficult to access and placed a statuette of Our Lady of Lourdes in it. The following autumn, accompanied by his students, the director of the college of Rigaud, Father François-Xavier Chouinard, c.s.v., carried the statue in a procession through the woods and placed it on the side of the present rock, which is more accessible. The following year, an imposing Madonna was hoisted on the same rock. The present small chapel was built in 1887 and the first major pilgrimage, marking the inauguration of the sanctuary, took place the same year. 
Since its origin, the mountain of Rigaud has been frequented by pilgrims from the surrounding area who come to pray to the "Lady in White" who appeared to the little shepherdess of France. And as in Lourdes, very early on, one could see that the favors obtained were marvelous. In 1890, for example, a paraplegic, Madame Séguin, was miraculously cured. Her husband, in gratitude, built the altar that is there today.
A statue of the Immaculate Conception, dating from 1882, is kept in the original chapel. In the sacristy one can admire a chalice, also from 1882, which belonged to Father François-Xavier Chouinard".
Sources:
    Note: Since there do not seem to be any official documents that tell this story of the stone-changed potatoes, it is difficult to place in which year it took place. However, we believe it probably occurred in the 19th century, when potato farming in Canada flourished.
–Pèlerinages et lieux de prière au Québec, by Gilles Leblanc, page 79