Venerable Anthony Kowalczyk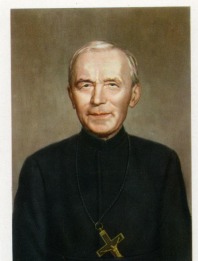 Birth and youth :
Anthony Kowalczyk was born on June 4, 1866 in Poland. He was the sixth child in a family of twelve. His father and mother were very good Catholics. From an early age, Anthony was influenced by the stories about the Desert Fathers that his father told him.
When Anthony finished elementary school, his parents took him out of school because they needed him to help on their small farm. The boy helped his parents for three years. Then, encouraged by his parents, he became an apprentice to a blacksmith in Krotoszyn.
Hamburg, Germany:
At the age of twenty-four, Antoine went to work in Hamburg, Germany. As soon as his co-workers discovered that he was a Catholic, they abused him with foul language, and when the slightest problem arose at work, they spoke blasphemous words against the things of God. Poor Anthony was confused, angry and helpless. Fearing that he too would become like his co-workers, he once knelt down in a public place and cried out to heaven for his faith in God.
All these bad colleagues, abuses and bad language affected poor Anthony and he became very sick. He felt a terrible pain in his eyes and the doctor told him that he might go blind. On his way home, he stopped at a church and knelt at the altar of Our Lady. As he prayed, he resigned himself to the holy will of God. He then walked the Way of the Cross and at the sixth station he felt a physical change and removed the bandage. He could now see! God had healed him and to thank Him for it, he made the Way of the Cross.
The Oblates:
Some time later, Anthony left for the Rhineland, which was a Catholic region in Germany. While looking for a job in Cologne, he frequently visited a Franciscan church. On one of these visits, he felt the need to go to Mulheim. There he found a job and a room with the Prunnenbaums, a Catholic family. When Mrs. Prunnenbaum got to know Anthony better, she told him about her son who was studying with the Oblates, who had missionaries in Africa, Asia and North America. She also told him that the Oblates were working among the poor and desperately needed help.
At first Anthony thought he was too old to join the Oblates, but he finally decided to join them. His father objected, but his confessor told him, "God comes before parents. If God calls you, answer his call! ". So Anthony Kowalczyk listened to his confessor and began his novitiate on September 21, 1891 in St. Gulach, Holland.
Nomination to Canada:
    On October 26, 1893, Brother Antoine renewed his vows for one year and asked to be sent to the foreign missions. It was not until 1896 that he was able to leave for Canada, following the request of Bishop Grandin. He was appointed to the mission of St. Albert in what is now Alberta. The bishop was told: "Brother Antoine is the best of the lay brothers, a true saint… "
 One day, while Brother Antoine was traveling with Bishop Vital Grandin and others, the caravan was caught in a swamp in Saskatchewan! The brother crossed on foot! He went further up on a mound and began to pray! The others complained: "What's wrong with that crazy little Pole? All this time wasted in vain! Does he think he can get us out of here with prayers?" – Grandin replied, "My good friends, don't make fun! This little brother, he is a saint!" After an hour of prayer, the good Brother got up, and then told the driver to move the horses forward. The horses moved forward without difficulty!
 Brother Anthony was known for constantly performing miracles. One day, some nuns broke a lock! Brother Anthony was asked to help! He asked them: "Did you say an Ave (Hail Mary)? – No," they replied. He knelt down and prayed! Then he got up and opened the door without any difficulty! Then he said to the sisters: "If you don't trust the Blessed Virgin now, that's bad! "(His French was poor).
Terrible accident:
  At Lac la Biche, Brother Antoine worked hard and spent many hours in prayer. He kept all the machines in excellent working order. In short, he set a good example for the whole community. However, God gave Brother Anthony a very heavy trial. One morning on July 15, 1897, the holy brother had his arm crushed by a machine…he screamed and fell to the ground almost unconscious! Brother Sylvester ran to help him and to lift him up! Brother Anthony exclaimed: "It was the Good Lord who wanted it"! Brother Anthony then kissed the wounds on his hand.
It took four days for Antoine to reach the hospital in Edmonton and by the time he arrived, gangrene had set in and they had to operate on him immediately. At the hospital, there was no medication to put Antoine to sleep. They wanted to tie him up and amputate his leg! Brother Anthony replied: "No, you don't have to do that; give him my crucifix; that's enough" he took it, looked at it and prayed. Come on, I'm ready," he said, then with his hand he firmly clenched the crucifix. The scalpel penetrated the living flesh; blood spurted out, but there was no complaint, not the slightest movement. The surgeon cut the nerves, the bones cracked… But the brother remained immobile.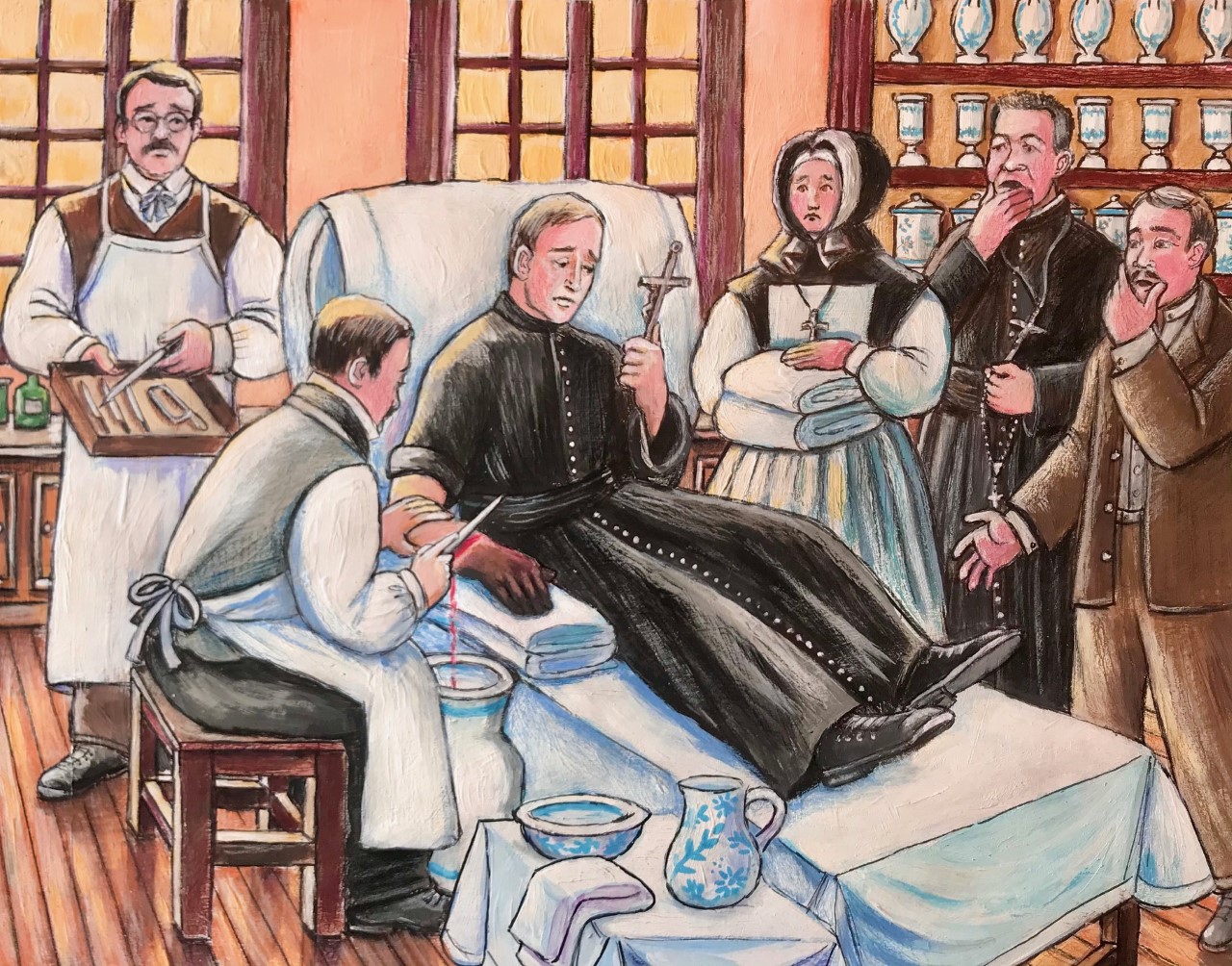 It took a month of convalescence before the brother was able to leave the hospital. His greatest fear was that the superiors would judge him useless with a missing arm and ask him to leave the community. But this was not the case. This is what he expressed in one of his letters that he wrote to the priest: "Allow poor Brother Kowalczyk to write you a word before returning to La Labiche (Lake Labiche) – You have heard of the misfortune that happened to me on July 15 of last year to have my right hand broken by the machine. Reverend Father Grandin and the sisters took me to the hospital in Edmonton, and the Doctore cut off my hand on July 22 – I stayed in the hospital for 4 weeks, and I have now come to St. Albert for the past week. I will leave for Lake Labiche soon. My good Father, I had a lot of pain when I broke my arm – I will never be an Oblate now, but the good Father Grandin said to me that it doesn't matter, you will be an Oblate – Monsignor Grandin said the same thing and Monsignor Legal too – Well, Father Grandin is happy, Bishop happy, I'm happy, I hope that Reverend Father General is happy and so are you, my good Father. I, never able to thank enough for all the kindnesses of Bishop, of the Reverend Fathers, of the good Brothers and Sisters for me poor sinner. I pray to God to bless them and pay for me – please give me your blessing Your respectful – Brother Anthony Kowalczyk
Mission Saint-Paul-de-Métis :
In 1897, Brother Antoine and Brother Moelic were sent to help Father Thérien at the mission of Saint-Paul-de-Métis. The three of them set up a sawmill and a flour mill. For ten years, Brother Antoine was engineer, mechanic and gardener for the struggling mission.
One year, however, there was too much rain which caused a shortage of food. To make up for the shortage of food, the Superior decided that the mission should raise pigs. Hail, however, had destroyed the crops and the pigs were starving. A field of turnips lay beyond a field of oats and the Superior said to Brother Anthony, "Brother Anthony, you will lead your pigs into the turnip field! You will go by the path that crosses the oat field! But be careful that no animal eats the oats! – But, Father, that's impossible! – Impossible? That word is not French! Come on!
The brother obeyed. The hungry pigs scrambled to get out of the pen! When they reached the field of oats, Anthony prayed! He stood up and said to the pigs: "I forbid you to touch this oat! "Meanwhile, in front of the rectory, several brothers, sisters, the superior and some Meti looked on: Poor Brother Anthony… "Oh? What a wonder! He commands the pigs and the pigs obey him!
A hook in his hand:
On October 4, 1911, Brother Antoine was transferred to St. John's College in Edmonton. There he was a blacksmith, laundryman, gardener, bell ringer, sexton, and looked after the chickens and other animals. This became difficult because of his missing hand. In 1912, Brother Antoine and a priest went to Winnipeg to have a metal hook installed on his arm, as he was having great difficulty working manually. A few weeks after Antoine learned to use the hook, he was given the job of janitor.
Every September, when the boys returned to school after their vacation, many of them would turn to Brother Anthony for a favor, as he was a good friend to help them. He would fix a watch, sharpen skates, cut a locker key or fix their glasses.
He was also known for his devotion and love for Mary, our Blessed Mother. When the washing machine refused to work, he would get down on his knees, say a "Hail" and the machine would start. He also obtained permission from his superior to build a grotto for Our Lady of Lourdes at St. John's College.
Brother Anthony always did his work well for the love of God. He worked hard and prayed a lot. One day he said to a friend who thought the rule was hard, "I am 72 years old. I find the rule hard too. But you have to bend and break your will. He also had a good sense of humor and often joked with people. And when he was the butt of a joke, he was the first to laugh at himself.
Death of the Holy Brother:
      On September 17, 1945, Brother Anthony did not show up in the chapel, nor did he come for his meal. When someone went to see him, the poor brother was found in his room at Collège Saint-Jean. Sitting on the edge of his bed, "his face was bruised and swollen, his eyes blackened and bloodshot," writes Father P.J. Klita in a short history of Kowalczyk. 
The Oblate brother later revealed that he had been fighting with the devil all night. He was never the same man after this traumatic confrontation and his health slowly declined untilhe died two years later. On July 8, Brother Anthony went to St. Albert for his annual retreat. Two days later, he was found paralyzed and unable to speak. He received the last rites and died on July 10, 1947.
Sources: 
BRETON, Paul-Émile, OMI, Forgeron de Dieu, Éditions de l'ermitage