Venerable Marie-Josephte Fitzbach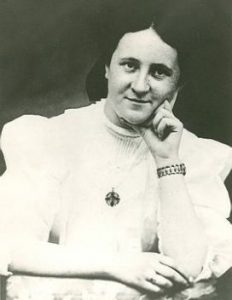 Marie-Josephte Fitzbach was born in St-Vallier de Bellechasse, Quebec in 1806. Her father, Charles Fitzbach, died two years later; her mother remarried in 1812. Growing up, Marie-Josephte was deeply devoted to the Virgin. At the age of 11, she made her first communion and then entered domestic service in Quebec City.
In 1828, Marie-Josephte married François-Xavier Roy, with whom she had three daughters, Séraphine, Célina and Clorinde. Five years later, her husband died, followed by Clorinde at the age of 14 in 1846. In 1849, her two other daughters entered the Sisters of Charity of Quebec.
It was a lawyer, George Manly Muir, a member of the Society of St. Vincent de Paul, who alerted the Archbishop of Quebec to the pressing spiritual and material needs of prostitutes and other women neglected by society. Archbishop Pierre-Flavien Turgeon began looking for a woman to found an institute to care for these women and found the right person in Marie-Josephte.
Since October 1849, Mrs. Roy had been a boarder with the Sisters of Charity of Quebec. One day, Father Louis Proulx asked her in the name of the bishop: "Madame, would you be too reluctant to take charge of the Asile Ste-Madeleine which we want to establish to gather the unfortunate women and convert them? Mrs. Roy, surprised by this unexpected proposal, answers that she wishes to reflect, consult and pray. Later, Mrs. Roy went to the bishopric where Father Proulx introduced her to the archbishop. My lord," she said, "I am your humble servant, do with me whatever you please. I will consider your will as that of God himself. "The Archbishop of Quebec congratulated Mrs. Roy and blessed her, for he had high hopes for her that would not be disappointed. Returning to her room, Mrs. Roy reflected on the promise she had made to Bishop Turgeon and fell at the foot of the crucifix, crying out: "My God, is it possible that you would demand such a sacrifice of me! If only I could hope to turn these unfortunate women into true Mary Magdalene! "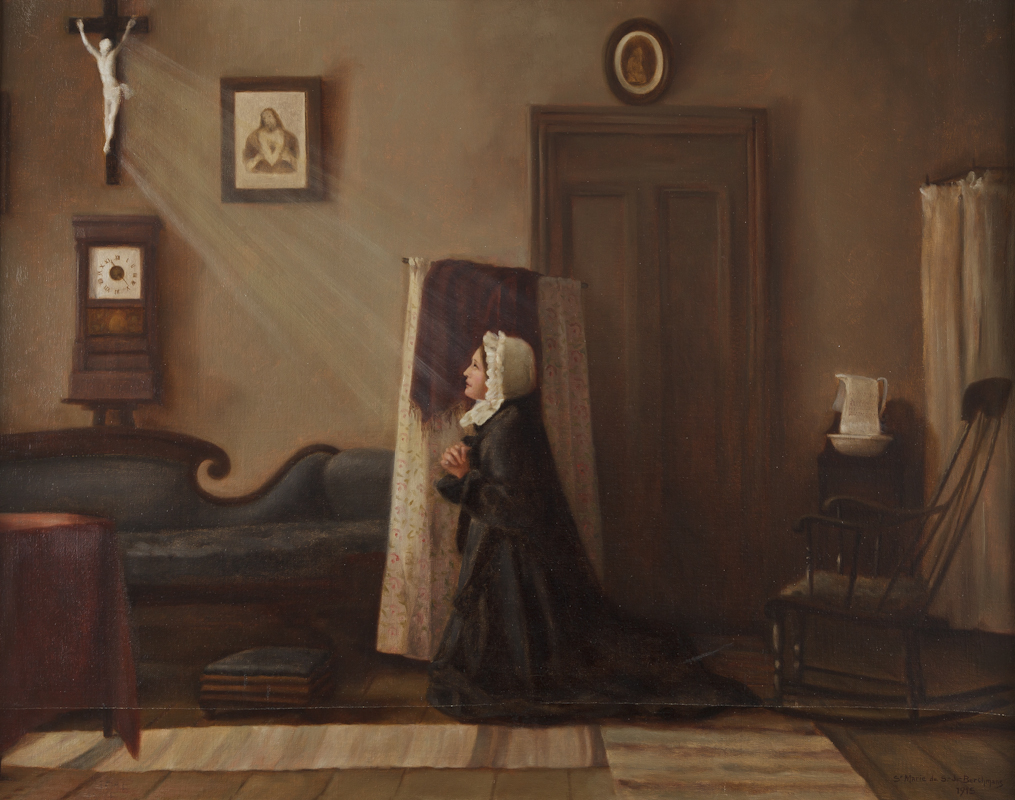 On December 31, 1849, she took the name Mother Mary of the Sacred Heart and gave birth to a new religious family of nuns, calling them the Servants of the Immaculate Heart of Mary, Refuge of Sinners. Its first refuge for young women was placed under the protection of St. Mary Magdalene and was called the House of the Good Shepherd. On January 7, 1850, two unfortunate women came to ask Mrs. Roy for shelter. In spite of the repugnance and fear she felt, she agreed to keep them in her room until the shelter opened. Three days later, her protégés deserted their benefactress who offered to heaven this first test of the apostolate.
Shortly afterwards, Marie-Josephte had the grace to receive her first companion to help her in her work. It was Miss Mary Keogh. On the morning of January 12, 1850, Mrs. Roy received two young prostitutes, one of whom was as distinguished as the other was miserable. Henceforth, January 12 will be the date commemorating the foundation and the start of operations of the work. Frightened by the fearful look of the unfortunate woman they were hosting, Mrs. Fitzbach Roy and her companion did not dare to go to bed. They barricaded themselves as best they could and prayed. What will we do," said Sister Mary, "if she wants to kill us? – We will die on the altar of charity," replied Mrs. Roy, "and God will receive us in heaven. "In the next room, the penitent listens to their fears, not knowing how to reassure them.
On May 1, 1852, a penitent caused a stir when she deserted the Asile Ste-Madeleine. Mrs. Roy and Sister Thivierge, a young postulant, went looking for her and found her hidden in a bawdy house. Through gentle persuasion, Mrs. Roy freed the fugitive from under the bed and brought her back into the fold.
On January 24, 1856, of the ten sisters on retreat, seven were admitted to vows, while the other three were preparing to receive the religious habit. The first seven members of the community made their religious vows in front of a painting of the Immaculate Conception on February 2 of that year, thus inaugurating a custom that has continued to this day. In all sorts of ways, Mother Mary of the Sacred Heart endeavored to place her foundation in the hands of Our Lady, sure that she would quickly lead them all to the Heart of her Son, Jesus. In the community founded by Mother Mary, the third Sunday of each month is dedicated to the Sacred Heart of Mary, while the month of May is entirely dedicated to Our Lady. In addition, each convent has its own Pietà.
In 1860, a convent of sisters was established in Rivière-du-Loup. The huge chapel of the motherhouse in Quebec City was built in 1866 and dedicated to Mary Immaculate. In 1870, the community took charge of a reform school for troubled teenagers and, four years later, opened a "house of mercy" for single mothers. When Quebec City was destroyed by fire in 1876, the Good Shepherd House was spared. This was attributed to an image of Our Lady of Purity that had been placed in one of the windows.
Mother Mary, who died on September 1, 1885. On June 28, 2012, Pope Benedict XVI declared her venerable.
Sources:
Under Mary's mantel, Our Lady's love for Canada, by Father Émile-Marie Brière