Saint Marie of the Incarnation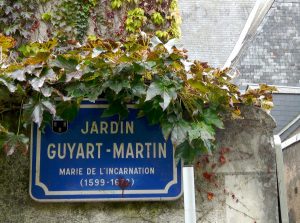 Childhood:
Marie Guyart was born in Tours, France, probably on street des Tanneurs. Her parents, Florent Guyart and Jeanne Michelet, were master bakers and had seven children. It was a Catholic home where children were encouraged to get an education. During the first three decades of her life, she lived in the world of the artisans and the middle-class merchants of Tours. She lived there for forty years, from her birth until her departure for Canada, from 1599 to 1639.
Youth, mystical graces :
Little is known about her education. She attended school. She admits to having received a "good education" which "gave her a good foundation in all things Christian and in good morals. At the age of seven, she had her first mystical grace which led her to give herself to Christ. She then had a striking dream that she herself would recount much later (1653): "In my sleep, it seemed to me that I was in the courtyard of a country school, with one of my companions… Having raised my eyes to heaven, I saw it open and Our Lord… coming out of it and who, through the air, was coming to me who, seeing him, cried out to my companion: 'Ah! there is Our Lord! He is coming to me! […] My heart felt all ablaze with his love. I began to stretch out my arms to embrace him. Then he, the most beautiful of all the children of men, with a face full of sweetness and an inexpressible attraction, embracing me and kissing me lovingly, said to me: "Do you want to be mine?" I answered him: "Yes" – Then, having heard my consent, we saw him ascending to heaven".
Around the age of 14, she was attracted to the cloistered life. She expressed her desire to enter the Benedictine nuns of Beaumont, a religious order established in the region. Her parents, who did not understand her aspiration to religious life, married her at 17 to the master silk worker Claude Martin. From their union Claude was born on April 1, 1619. Six months later, she was widowed at the age of 19 when the small factory went bankrupt. She found herself with assets to liquidate and debts on her hands, in addition to a child to raise. She decided to return to her father's house. She was made to feel that a new marriage would solve her material problems. But the call of God and solitude was too strong.
On March 16, 1620, she had a mystical experience that she called her "conversion": the irruption of Christ in her life. She confessed to the first religious she met and felt transformed. She aspired to a life of reclusion, but her sister Claude, married to Paul Buisson, a merchant, invited her to live with her in 1621. She accepted this offer to ensure her subsistence and that of her son. Marie wanted to lead a life of self-denial and servitude. However, her talents as an administrator were recognized and the couple hoped that she would help them consolidate their struggling river transport business. She sometimes took on the role of manager when the two bosses were out of town. In 1625, she was even entrusted with the management of the company. That same year, mystical graces led her to union with Christ. She could not enter religion because she had to raise her son Claude, but she already took a vow of chastity, poverty and obedience at that time. On January 25, 1631, she enters the Ursuline convent in Tours.
A mysterious vision of Canada: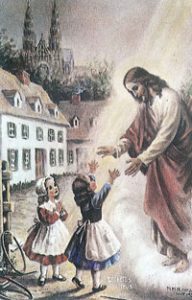 A few years later, she had a mysterious vision. One night," she reported, "I was shown in a dream that I was with a secular lady whom I had met by some means. She and I left the place of our ordinary residence. After many obstacles, we finally arrived at the entrance of a beautiful place at the entrance of which there was a man dressed in white and the shape of this habit as the Apostles are painted. He was the guardian of this place. He made us enter there. This place was delightful, it had no other opening than the sky, the silence was there which was part of its beauty. As I walked inside, I saw a small church on which the Blessed Virgin was sitting holding her little Jesus in her arms. This place was very eminent, at the bottom of which there was a big and vast country full of mountains, valleys and thick fogs which filled all. The Blessed Virgin, Mother of God, looked at this country as pitiful as it was frightful. It seemed to me that she was speaking to her blessed Child about this country and about me, and that she had some purpose about me. She kissed me three times, filling my soul with her caresses with an unction and sweetness that is unspeakable. This vision aroused in the heart of our ursuline an intense apostolic ardor: from her cloister, she went to do all she could to obtain the salvation of souls who were in the wilderness. It was only in January 1635 that she learned the meaning of the dream of Christmas 1633: "While I was in prayer before the Blessed Sacrament, this adorable Majesty said to me these words: 'It is Canada that I have shown you; you must go there to make a home for Jesus and Mary. "In the same way, she learned that the guardian of the country she had seen was St. Joseph.
Canada! Until that day she thought it was a mythical country invented to scare unruly children. And now she finds herself chosen to go and found a home there!
Journey to Canada:
On February 22, 1639, Mother Marie de l'Incarnation and Mother Saint-Joseph left their monastery in Tours to go to Canada. They were escorted by Madame Madeleine Chauvigny de la Peltrie, who provided them with the necessary funds to found the monastery in Quebec City. Our travelers went to Dieppe, their last stop before leaving for the sea. Mother Cécile de Sainte-Croix joined the group leaving for Quebec. The embarkation took place on May 4 at the port of Dieppe. Also on the voyage were three Augustinian Sisters of the Precious Blood, who, thanks to the foundation of Madame La Duchesse d'Aiguillon, went to Canada to care for the French and native patients. Madame la Gouvernante de Dieppe took the sisters in her carriage and drove them to the pier.
In one of her letters to the superior of the Ursulines of Dieppe, Mother Cécile de Ste-Croix reports how eventful the trip was: "We had a furious storm which lasted fifteen days, with very little time between, so that the whole week of Rogations, including Ascension Day, we were deprived of hearing Holy Mass and Holy Communion. We had the same mortification on the day of Pentecost; the vessel was so agitated during all this time that it was impossible to stand up, nor to take the least step without being supported, nor even to be seated without holding on to something, or else one found oneself instably rolled to the other side of the room.
"On the day of the Holy Trinity," wrote Mother Cécile de Sainte-Croix to her Mother Superior, "at about ten o'clock in the morning, as we were saying the Nones hour of the great office, we heard the lamentable cries of the sailor. We did not stop praying, not knowing what it was, when the Reverend Father Vimont came down to our room and said to us: "We are dead, if Our Lord does not have mercy on us; there is an iceberg as big as a city, which is going to hit the ship and is only ten steps away. Then he knelt down, and so did we, and said the words that St. Francis Xavier once said in such a danger: "Jesus, my Redeemer, have mercy on us!" When this was done, he said to us, "I am going to the sailors, and then I will come back here to give you absolution. We still have half an hour. When I heard from the Father: "We are dead! I had no time to resign myself, because immediately Mr. Bontemps entered the room and said to us: "We are saved ! but it is a miracle. And immediately he showed us the iceberg at the back of the ship, whose top could not be seen, because of the fog which was very heavy and lasted a long time, so that we saw ourselves once again in danger, close to the land that we could not see. We attributed our deliverance to the prayers you made for us. Only one man, who was holding the rudder, turned the ship so straight, which was going to hit with great speed on the ice, that it was considered impossible that a man could do that".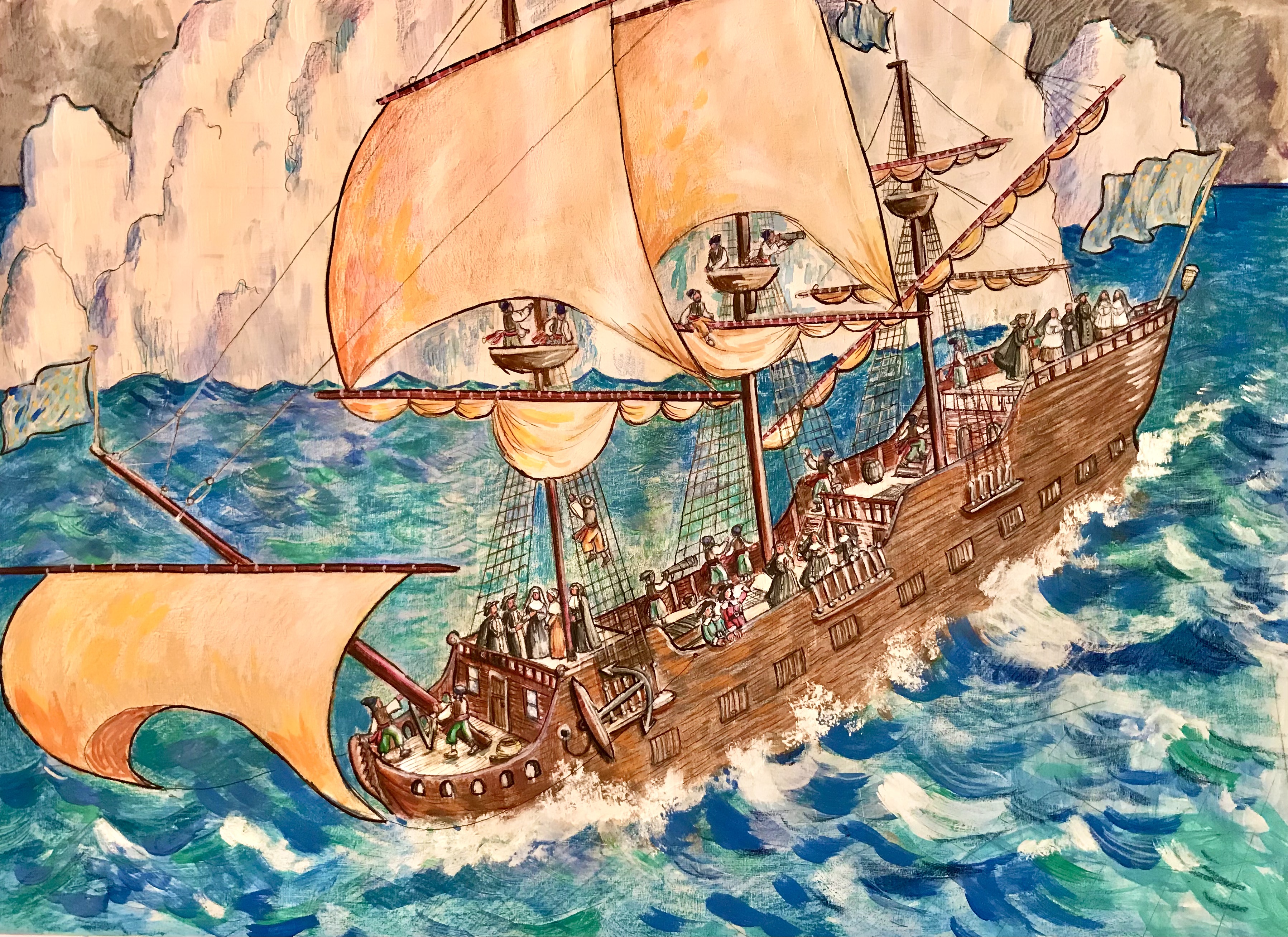 Religious missionary in Quebec City:
Saint Mary of the Incarnation arrived in Quebec City on August 1, 1639 and founded a monastery and a first school for young girls in the lower town. In 1642, the Ursulines moved into a new stone monastery in the upper town. Marie de l'Incarnation zealously devoted herself to the education of French and Aboriginal girls.
However, they had difficulty in teaching French to the aboriginal girls. Plus, with the demographic decline that disrupted the native population and a growing reluctance on the part of aboriginal parents to entrust their daughters to the Ursulines, Mary of the Incarnation had to move away from her role as a missionary to devote herself more to the education of the colony's French girls.
The earthquake in 1663:
Even though she was cloistered, Mary of the Incarnation played an active role in the life of the colony. In 1663, she witnessed an earthquake in Quebec City. She recounted the event in the abundant correspondence she had with her son. The Ursuline saw in the catastrophe a sign from God punishing the trade in alcohol between the colonists and the Amerindians. She was also involved in an epidemic of pox that hit the native peoples hard: her monastery was transformed into a hospital on several occasions. She also comments extensively on the Franco-Iroquois wars and the destruction of Huronia.
Mary of the Incarnation, through her writings, is considered by many historians to be the author of the first mention in French, and no longer in Latin, of the Canadian identity of the colonists, by virtue of a letter dated October 16th 1666.
Death:
She died of old age on April 30, 1672 in Quebec City at the age of 72. She was associated with the life of the small French colony founded in Quebec City in 1608, which without her and her companions would hardly have survived. Her tomb is located in the Ursuline chapel: 12, Donnacona street, Quebec (Qc), Canada.