Youth:
The son of farmers, Saint Jean de Brebeuf was born in 1593 in Condé-sur-Vire, Normandy, France. He joined the Jesuits in 1617, but almost left after contracting tuberculosis. His health problems at the age of twenty-eight prevented him from acquiring extensive theological knowledge. He was finally ordained a priest in 1622. Then he left for New France where he disembarked on June 19, 1625. Throughout his journey, the Huguenot ship's captain threatened to take him back to France.
Overcoming the colonists' aversion to the Jesuits, Brebeuf chose a site for a residence on the St. Charles River, on the very spot of an old Jacques Cartier camp. He adopted the Amerindian way of life, settling in a tepee where he spent the winter. The following year, he decided to go and live among the Hurons. They seemed to be easier to convert because they were more civilized than most other tribes. One of the biggest difficulties he had to face was the dreams. For the Huron, when they had a dream, they thought they had to fulfill it somehow. For example, if I had a dream that I killed my neighbor, I would have to fulfill that as soon as possible. You can imagine how easy it is to abuse. In fact, some Huron who did not like priests would say something like this, "I dreamed that priests are witches."
First British conquest:
The Kirke brothers, commissioned by England, attacked Quebec and conquered New France on July 19, 1629. Jacques Michel, a French Huguenot who had betrayed New France, vowed to be hanged if he did not strike Father de Brebeuf before the end of the day. Curiously, Jacques died suddenly. "The Jesuits will cry miracle," the English whispered. Shortly thereafter, some Indians who regretted the departure of the French dug up Jacques Michel's body to hang him. Following this incident, Father Le Jeune said of Jacques Michel: "It is not good to blaspheme against God or against his saints, nor to bandage oneself against one's king, betraying one's country" (Relation of 1634 (Thwaites, VI, p. 160)
On July 19, 1629, he returned to France after the surrender of the colony to the English by Champlain. He will be appointed Treasurer at the Jesuit College in Eu, France. He will take advantage of this opportunity to convince young Jesuits to go to Canada when possible.
In 1632, France officially recovers Canada, since England had conquered New France while a peace treaty had been signed between the two countries before. Four years later, on March 23, 1633, he left for Canada. Upon his arrival, he tried to return to Lake Huron but the Amerindians refused to take him. The following year, he succeeded in reaching his former mission. In 1640, he tried without success to evangelize the Neutrals, a tribe north of Lake Erie. In 1642, he was sent to Quebec where he was in charge of the Native americans of the Sillery reserve. At the height of the conflict between the Hurons and the Iroquois, after two unsuccessful attempts, he managed to penetrate Huron territory. Although the Iroquois had made peace with the French, their war with the Hurons continued.
In the lives of the Canadian martyrs, God teaches us a good lesson: what seems to be a failure in our eyes, can be a success in God's eyes. Indeed, most Indians are converted on their deathbed. During an epidemic, on the one hand, many Indians accused the priests of being witches, but on the other hand, many Indians accepted baptism on their deathbed. One day, the Hurons were ready to kill Saint Jean de Brébeuf, considering him the cause of the epidemic. But Father de Brebeuf began a novena of masses to Saint Joseph, and eventually the Hurons changed their minds.
Visions of the demons:
St. John of Brebeuf converted so many natives that the devil became furious. He is said to have converted about seven thousand people. Following this, the Saint will even suffer demonic attacks. He says: "On August 21 (1637) […] I had a vision, real or imagined, in which I saw a vast crowd of demons coming towards me with the aim of devouring me or, at least, of biting me. But none of them were able to attack me. Those who came first looked like huge horses, but their manes were long and wavy, like those of rams and goats. I don't remember the shape of the others, but I know there were many of them and they had various shapes, even more frightening than ever. This vision lasted the time of a Miserere (a prayer). I don't remember being frightened, but placing my trust in God, I said: "Do whatever God allows you to do; you are not going to pull a hair out of my head without his consent and command" (Jesuit Relations 1637).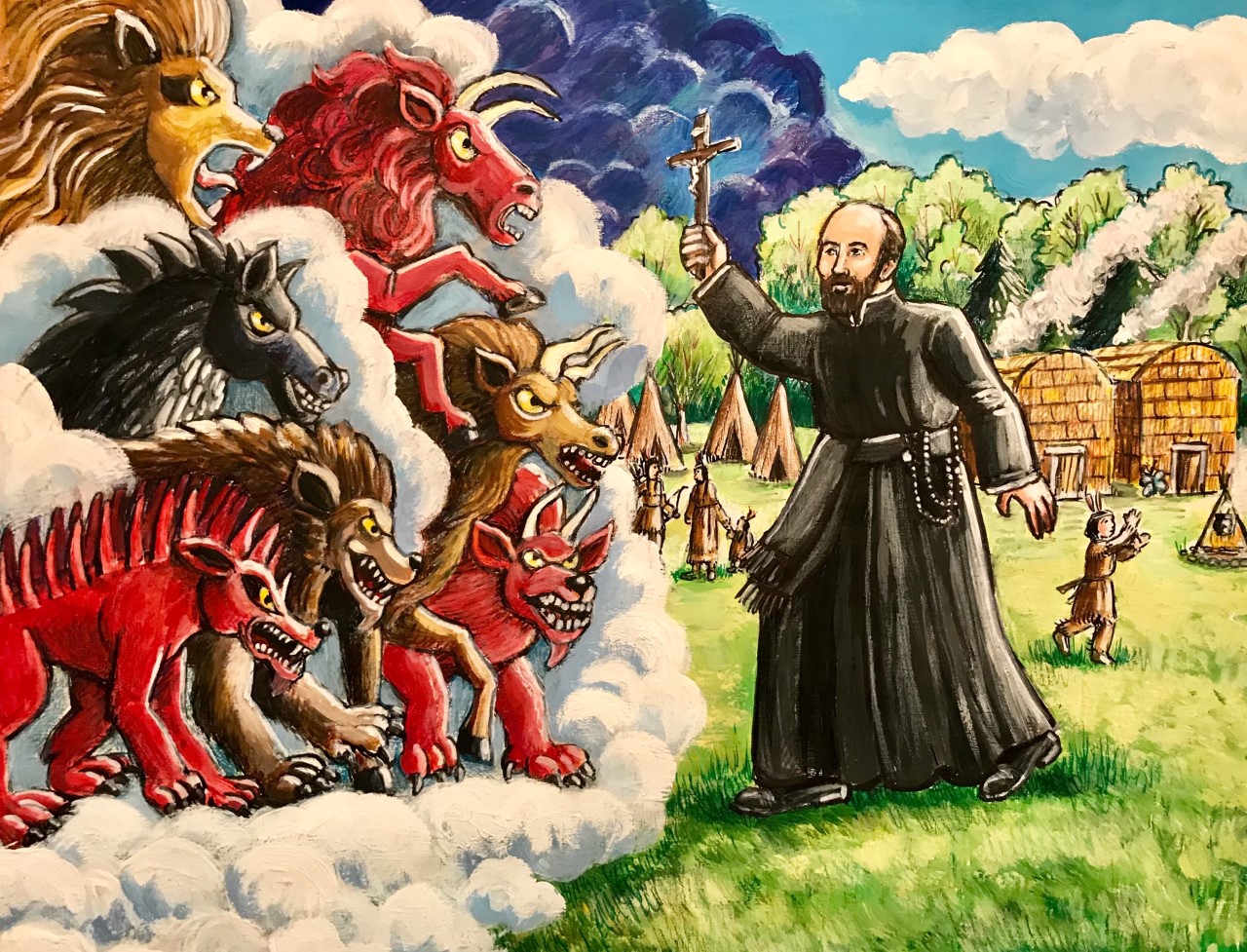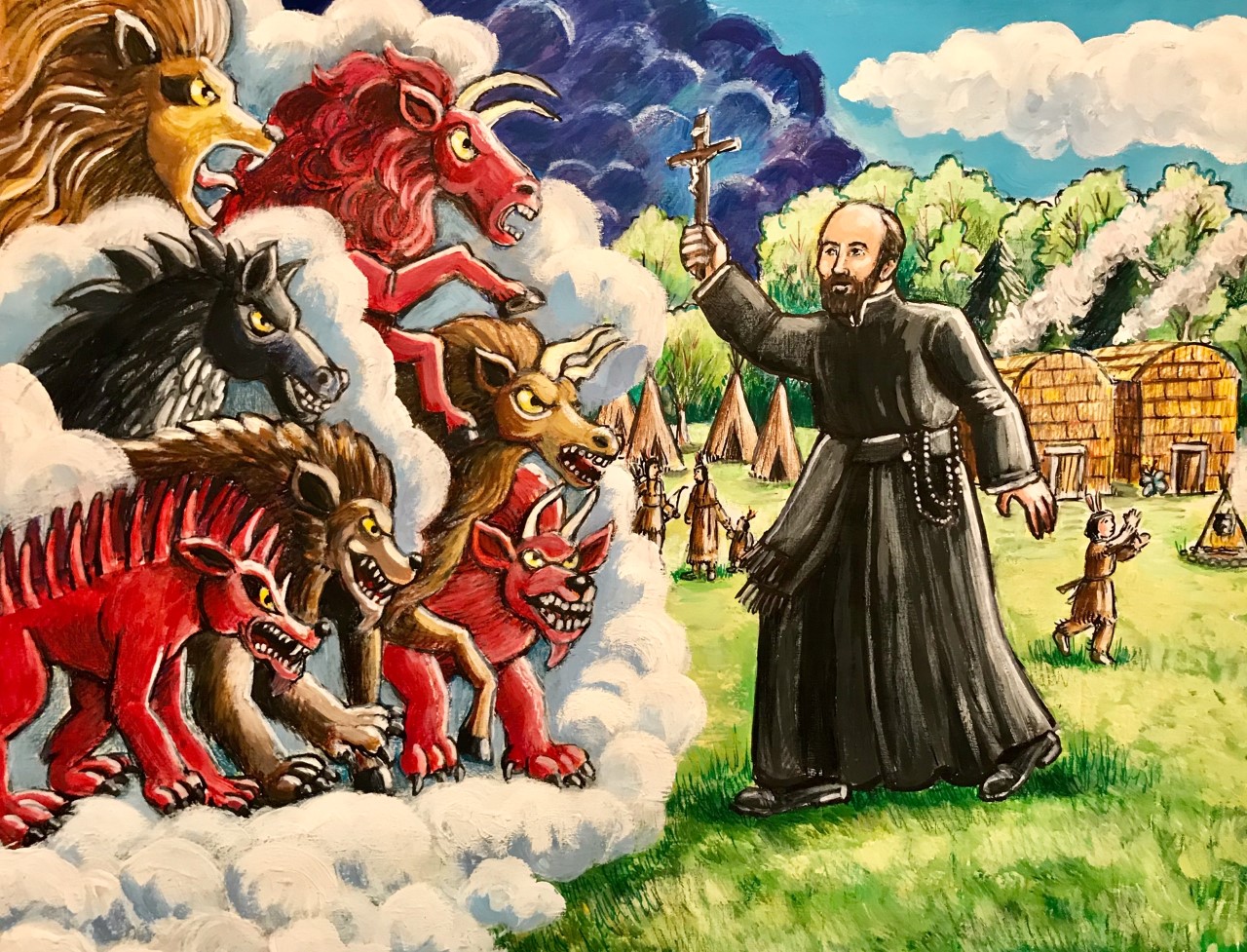 "On May 9, while I was in the village of St. Joseph, I suddenly found myself thrilled by powerful acts of God's love, and I felt myself being pushed toward God to embrace Him. Then, something that looked like an old lady appeared. First she hugged me, then she hit my head against her with such force that I was in great pain. Suspecting that this old lady was actually the devil, I made the sign of the cross to protect my forehead. After that, the lady stepped back and did not dare to approach me anymore".
He prays to die a martyr: 
As we know, Father de Brebeuf always wished for martyrdom. He himself wrote: "For the past two days, I have felt a great desire for martyrdom and to undergo all the torments that the Martyrs underwent. After many years of prayer, his prayer was answered. He had a vision that foretold his martyrdom: He saw a huge cross appear in the territory of the Iroquois.
Throughout his ministry in Canada, Saint John de Brebeuf prayed to God to grant him the grace of martyrdom. In the year 1640, he saw a cross of enormous proportions in the southern sky, large enough to hold not only one person, but each of the Jesuits who worked at that mission. Significantly, it appeared in Iroquois territory.
Martyrdom of John de Brebeuf:
Nine years later, on March 16, 1649, 1,000 Iroquois secretly approached the St. Louis mission, pouncing mercilessly on the surprised Hurons, and murdering them or taking them all prisoner. Father de Brebeuf and Father Lalemant were seized and bound. Some Huron Christians secretly witnessed this terrible event.
The Iroquois stripped the two priests and tied each of them to a post. They tore off their fingernails and then beat their bodies with sticks. During this torture, Father de Brebeuf did not stop preaching about God, encouraging his fellow captives by shouting, "My children […], Keep courage in the few torments that remain to you; these will end with your life; the glory that will follow will have no end!"
While our saint was encouraging his people, a wretched Huron traitor, whom Father de Brebeuf had once baptized, mocked the poor priest: "…I will baptize you and make you suffer a great deal, so that you will go sooner to your Paradise! Then the wretch took a huge kettle filled with boiling water and poured it three times over the priest's head! The Iroquois then heated up some hatchets and applied them to the priest's kidneys, under his armpits and around his neck. Then they put a belt of pitch and resin on Father de Brebeuf and set him on fire, thus roasting his entire body. The priest's zeal was so great that he constantly preached to the Iroquois during his torments. Enraged, the Iroquois cut out his tongue and cut off his lips! Burning torches were applied to his body, they gouged out his eyes, and they put hot coals in the empty holes! They also put a red hot iron in his mouth and rectum. After three hours of this torture, seeing that the good priest would soon die, they made him sit down and cut off his scalp. Finally, they ate his heart.
Testimony of Father Ragueneau:
"He was taken by the Iroquois enemies of the faith, in the year 1649, with Father Gabriel Lalemant, when they were at present confessing, baptizing, and encouraging their flock. Then, they were stripped naked, loaded with canes; and one applied to them burning torches by all the body; one hung to the collar of the axes all red of fire one put some to them under the armpits; and these barbarians in derision of the holy baptism, poured to them pails of boiling water on their heads, and on their bodies all torn; They cut off the nose and lips of Father de Brebeuf, and they burned his tongue, putting coals of fire in his mouth, being furiously animated against him, because he led the Huron Christians to have recourse to God in their martyrdom, and wanting to prevent him from speaking of God. Finally they ate him alive, having taken large pieces of flesh from him, which they devoured before his eyes half roasted" (Description by Father Ragueneau in the Jesuit Relations).
Half of saint John de Brebeuf's skull is located in a reliquary in the chapel of the Hôtel-Dieu de Québec at 75 des Remparts street, Québec (Qc). The other half is located in the Martyrs shrine at 7, Bellisle Road, Penetanguishene (ON).