Consecration of Canada to Saint Joseph
Devotion to St. Joseph in Canada dates back to the founding :
The tradition of devotion to St. Joseph in Canada goes back to the very beginning of the founding of our country. "The Jesuit Relations reveal how popular this cult was in New France. It was under his patronage that the evangelization of the Indians was accomplished and it was the name usually given to the new converts. The custom was quickly established and has been preserved to this day to choose the name Joseph as the first patronymic at baptism. A study of the mandates of the bishops of Quebec also shows that the encouragement of devotion to Saint Joseph is a constant in our history" (c.f. Father Henri-Paul Bergeron, c.s.c.).
Arrival of the Recollects:
"Samuel de Champlain became interested in bringing missionaries to the colony. In 1615, the Recollect Denis Jamet was named Provincial Commissioner of the missions of New France. He left Paris on March 15 with three confreres, Fathers Joseph Le Caron and Jean Dolbeau, and Brother Pacifique Duplessis. They went to Honfleur with Champlain, where they embarked on April 24 on the ship Saint-Étienne, to get off at Tadoussac on May 25. Father Le Caron then asked Champlain to accompany him on his expedition to the Hurons. He settled in a small place called Carhagouha (in Ontario), the main one of the eighteen villages in Huronia. It was there that he celebrated the first mass in Huron country on August 12. He himself named the mission of Quieunonascaran, next to Carhagouha, after Saint Joseph, because of his devotion to his personal patron" (c.f. La dévotion à Saint Joseph en Nouvelle-France, pages 4 and 5) .
Consecration of Canada to Saint Joseph:
"In 1617, Father Jamet was appointed Guardian of the convent of Saint-Denis in France, while Father Le Caron inherited his title and became the Provincial Commissioner of our missions. It was during this period that a very important event occurred for New France. Father Le Caron, who was then in Quebec, wrote a letter of capital interest to Messire Charles de Ransay de Noues, Grand Vicar of Pontoise, protector and syndic general of the Recollects of New France. It is a detailed account of everything that was happening in the country. At the end of his letter, he added a note of primary importance for the devotees of Saint Joseph. This passage was reproduced by the Recollect Chrétien Le Clerq, in 1691, in his classic work entitled Premier établissement de la Foy dans la Nouvelle-France: "Since that time, we have made a great solemnity, where all the inhabitants were present, as well as several Indians, by a vow that we made to Saint Joseph, whom we chose as the Patron of the country and protector of this nascent Church: you are Monsieur of our house by your care, and by your generosity. We are sending to France Father Irénée [Piat], who will communicate to you our little plans, in order to establish more firmly the Kingdom of Jesus Christ in this new world…" (c.f. Dévotion à Saint Joseph en Nouvelle-France, page 5). Historians believe that St. Joseph's Day was thereafter celebrated regularly, except perhaps during the occupation of Quebec by the Kirke brothers (1629).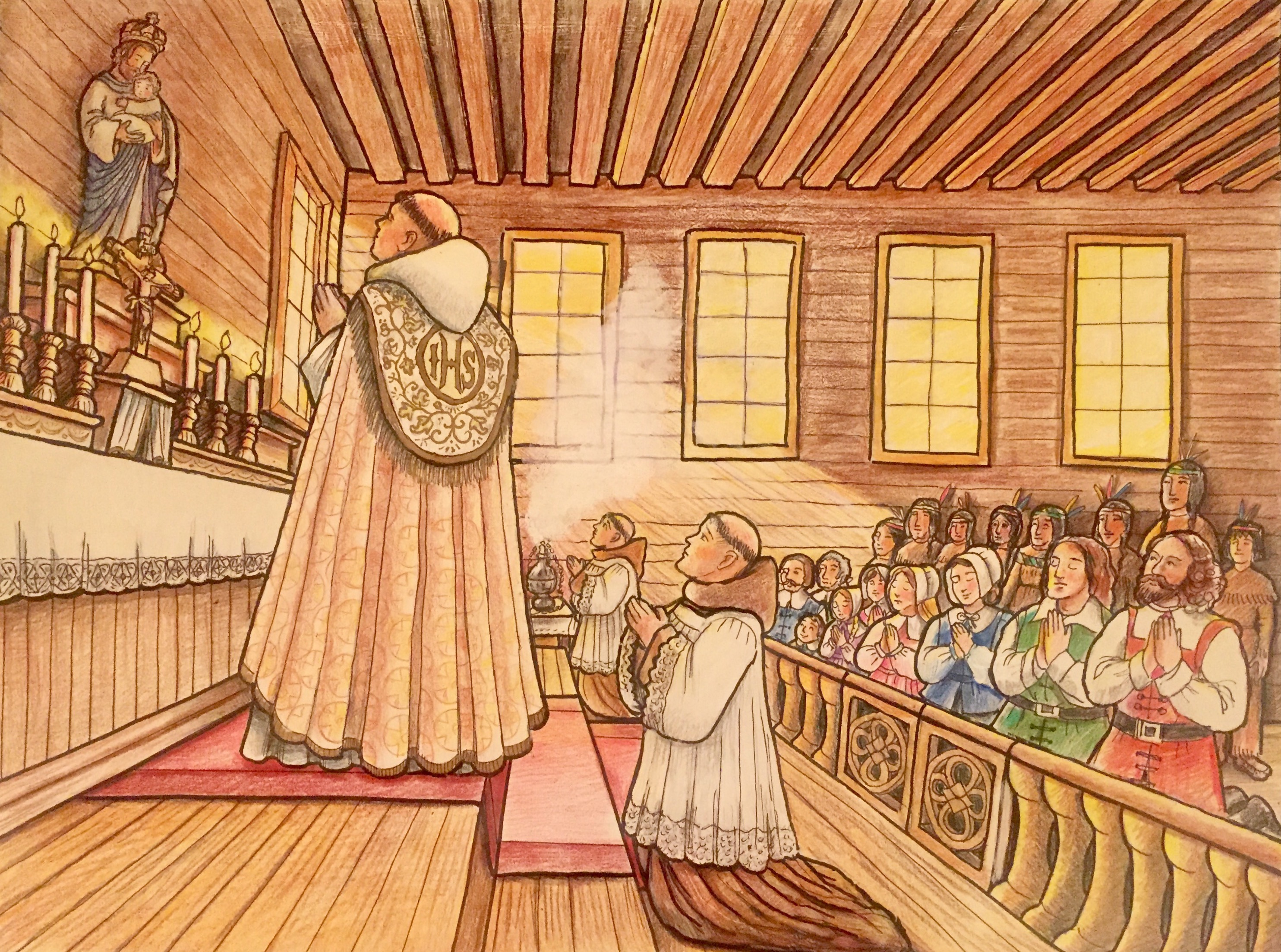 We know that the consecration took place in 1624, but we do not know the exact day of this event. "Many thought that this solemnity took place on March 19, the usual day of the liturgical feast of Saint Joseph. And yet, there is an important fact that must not be forgotten: on March 19, 1624, Father Le Caron had been in Huronia for some time with Father Nicolas Viel and Brother Gabriel Sagard. These Recollects left their mission around May 1624, in company with the Hurons who were going to trade furs in the St. Lawrence Valley. They arrived in Quebec City on July 16" (c.f. La dévotion à Saint Joseph en Nouvelle-France, page 6) . The consecration would therefore have taken place probably between July 16 and August 15, 1624.
Ratification of the consecration:
In 1637, the choice of St. Joseph as patron saint of the country was ratified in a more official way. "Pope Urban VIII confirmed this decision, and granted a plenary indulgence for the day of the patronal feast […]. All the inhabitants of New France, after having gathered at the foot of the holy altars to vow themselves anew to the holy Spouse of the Queen of Heaven, took part in the public rejoicing, blessing God for having given them as their protector the very guardian of his divine Son" (c.f. Histoire de l'Église du Canada, pages 23-24). Father Le Jeune wrote in the Jesuit Relations that "There is no place in the world where the feast of St. Joseph is celebrated with more pomp and rejoicing than in Canada".
Confirmation from Heaven:
Even before coming to Canada, St. Mary of the Incarnation saw St. Joseph, along with "the great country" that was shown to her, "He was the guardian of this place. " Blessed Catherine of St. Augustine herself confided "having, in different circumstances of her life, seen St. Joseph and heard from his mouth the affirmation that God had constituted him father, guardian and defender of the country of Canada".
Confirmation from Rome:
In 1834, Gregory XVI definitively approved the vow of 1624 and Saint Joseph officially became the first Patron of Canada. Saint Joseph was thus honored as patron and protector of the Church of Canada, before being declared patron and protector of the universal Church by Pope Pius IX, on December 8, 1870.
Sources: 
-P. Chrétien LECLERCQ, Premier établissement de la foy, I, p. 287 – Les Ursulines de Québec, I, p. 253.
-Roland GAUTHIER, c.s.c, La dévotion à Saint Joseph en Nouvelle-France.
-Histoire de l'Église du Canada, by a nun of the Notre-Dame Congregation, pages 23 and 24
-The Jesuit Relations