The penance of the ghost priest of Île-Dupas
 The story of the penance of the ghost priest of Île-Dupas is told by Father Vincent Plinguet, who was parish priest of the Church of La Visitation-de-l'Île-Dupas for 30 years (1861-1891). At the very beginning, Father Plinguet hesitated to tell this story, thinking that it might be only a legend. Although it is difficult to prove the veracity, we know at least that Jacques Valois, the character reported as an eyewitness, did indeed exist. According to the registers, Mr. Valois died on July 17, 1750 at Ile-Dupas. Here is this famous story as reported to us by Father Vincent Plinguet: 
   "I will not leave this parish church without bringing back all that is related to it. It is generally believed here that there was a priest buried in this church; although, in the registers that exist, I have not discovered anything that could confirm this tradition, I believe it is based on a story of a returnee, which I hesitated to record here; but remembering the one told by M. le chevalier J. C. Taché in his Forestiers et voyageurs des "Soirées canadiennes" ("Canadian Evenings"; collection of national literature, Quebec City, 1863, p. 167): "why not? "I said to myself, and here it is:
    Several times in the church, in the middle of the night, a light stronger than that given by the ordinary lamp had been noticed; at first, it was not much noticed; then, as the light continued to appear every night, one was moved by it, and decided to lighten the thing; Four or five of them gathered together to give themselves a little courage, and advanced in a single line towards the church; but what astonishment these men were when they saw at the foot of the altar a priest dressed in his priestly vestments, and still living in the same place! They did not dare to enter and returned, even a little faster than they had come, and when they returned home, they indulged in a thousand conjectures.
   On hearing about what was happening, one named Jacques Valois (the great-great-great-grandfather of the one from whom I have these details, and the father of those who settled in Lachine and Pointe-Claire), braver than the others, agreed to enter the church to see what it was all about. One evening, after the vigil with his friends, he went to the church, said his prayer and waited. Around midnight, he saw a priest, in a cassock, come out of the sacristy, light two candles at the ends of the altar, prepare everything for Mass, and return to the place from which he had just come out.
    A few moments later, he saw him come out, dressed in his vestments, carrying the chalice, and go up to the altar. Thinking that Mass was about to take place, our Valois went to the foot of the altar, served the Mass which was said in the ordinary way, and led the celebrant back to the sacristy; the latter, after having greeted the cross, turned to his side and said to him: "For three years, I have been coming here every night to say a Mass that I said with too much haste; during my life I was condemned to come here until I had found a server (it should be noted that at that time it was forbidden to say a Mass without a server); thanks to you, my penance is over, I thank you. " And he disappeared. »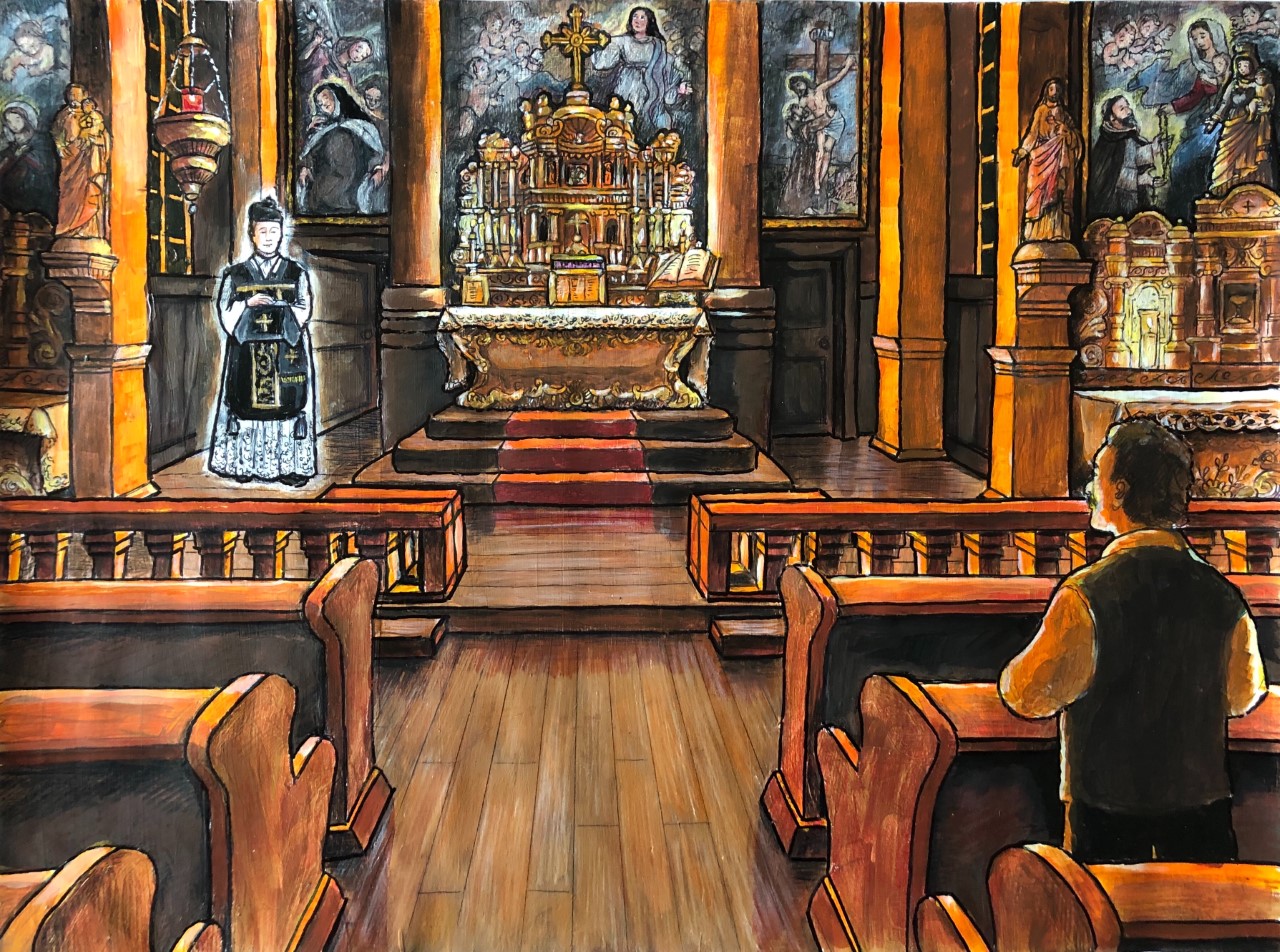 Sources :
-Plinguet, Vincent, Histoire de l'île Dupas, dans Annuaire de Ville-Marie, tome premier : Histoire des paroisses du diocèse de Montréal, Montréal, Z. Chapleau, Libraire-éditeur, Rue Notre-Dame, 1867, p. : 17-18.
-Coups de crayon by F.A. Baillairgé, Joliette, Bureau de l'étudiant et du couvent, 1889, pages 61 and 62.