Saint Genevieve's little breads
There is a chapel dedicated to Saint Genevieve in Old Quebec, inside the Notre-Dame-des-Victoires church. It was built in the 1720s in an annex attached to the wall of the church. Its construction had been planned as early as 1688 in the work directed by Claude Baillif, architect of the first church. It was not completed until about thirty years later.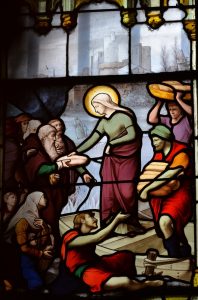 On January 3 of each year, the feast day of the saint in question, the ceremony of blessing the little breads of Saint Genevieve takes place. The tradition of these little breads originated in the year 480s, when the city of Paris (formerly Lutetia) was besieged and cut off from supplies by the blockade of Childeric, father of Clovis. It was then that Saint Genevieve had convoys of wheat and flour chartered by boat to feed the Parisians. "The best portions went to those who had suffered the most from hunger. So much so that when the young girls (who were the spiritual daughters and collaborators of Saint Genevieve) arrived at the oven, they were surprised not to find some of the bread they had put in it. Most of the loaves they had put in the oven had disappeared. But the mystery was cleared up when they met many poor people throughout the city, carrying their still warm loaves and celebrating the goodness of Saint Genevieve. (c.f. La Vita, hagiographic text on Saint Genevieve). Many years later, the tradition of making bread rolls named after the patron saint of Paris began in France. These were blessed and shared to ask the good Genevieve for protection against famine.
This tradition was introduced in Quebec City following a famine that struck the city. Saint Genevieve was remembered and invoked on January 3rd, her liturgical feast day. Since 1723, every year on the feast of Saint Genevieve, little buns are blessed by a priest and distributed as a sign of gratitude and protection against famine! The preparation of these breads takes place every year in the basement of the church Notre-Dame-des-Victoires. There is a large room equipped with all the necessary tools: large tables, a freezer, a convection stove, sheet metal plates, etc.
Sources :
www.paris.catholique.fr/petits-pains-de-sainte-genevieve.html
www.ipir.ulaval.ca/fiche.php?id=399