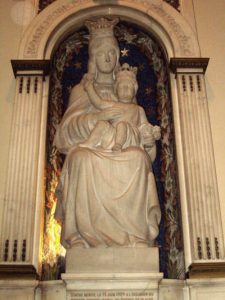 Champlain's vow:
On July 19, 1629, the Kirke brothers, mandated by England, conquered New France. All the missionaries were forced to leave the colony. Samuel de Champlain was taken prisoner and taken to London. It was then that he made a vow to the Blessed Virgin. He vowed to build a chapel dedicated to Our Lady of Recovery if the little colony was returned to France. This happened in 1632 with the treaty of St-Germain-en-Laye, where England agreed to return the colony to France.
"On June 5, 1633, the canon joyfully greeted the arrival in Quebec of Samuel de Champlain, who had once again taken possession of this land in the name of the King and the Church […]. Samuel de Champlain's first order of business after his return was to build a church dedicated to Our Lady of Recouvrance (1633), in thanksgiving for the restitution of Canada to France: a blessing that was attributed to the special protection of the Mother of God. This chapel, built on the site now occupied by the Basilica [Notre-Dame] of Quebec, served as a parish church for many years" (c.f. Histoire de l'Église du Canada, page 17). This chapel was destroyed in the fire of 1640 and replaced by the church of Notre-Dame-de-la-Paix in 1647. This church became, in 1664, the first parish church in North America which Bishop de Laval consecrated and dedicated to the Immaculate Conception. In 1674, the church was elevated to the rank of cathedral. A plaque commemorating this votive chapel of Samuel de Champlain can be seen on Buade Street in Old Quebec.
Death of Samuel de Champlain:
"At the beginning of October 1635, Champlain was struck down by paralysis. By will and in the presence of the clerk of Quebec, he named the Virgin Mary as his heir, and he died on Christmas Day of the same year" (c.f. Petite histoire de Notre-Dame du Cap). According to some historians, he was buried in his chapel of Notre-Dame-de-Recouvrance (Our Lady of Recovery). 
The new church dedicated to Our Lady of Recovery:
     In 1929, when the Archbishop of Quebec decided to create a new parish in Quebec City East, he named it Our Lady of Recovery to celebrate the 3rd centenary of Samuel de Champlain's vow in 1629. On June 13, 1929, the archbishop installed a statue of Notre-Dame de Recouvrance on the left side of the nave at the back of the Notre-Dame de Québec Cathedral Basilica.
Sources:
-Abbé Nicolas Pinaud, Petite histoire de Notre-Dame du Cap et du miracle du pont de glace dit "Pont des chapelets", édition Saint Agobard, page 11.
-Histoire de l'Église du Canada, by a nun of the Notre-Dame Congregation.