The Blessed Virgin warded off the bullets of the enemies
Beginning of the foundation of Montreal:
Maisonneuve and Jeanne Mance left La Rochelle in May 1641 with 47 men, 2 women, and some children in order to found the city of Ville-Marie (Montreal). They spent the winter in Quebec City, preparing to sail up the river despite warnings from the authorities. The Jesuits in particular were opposed to this project, which they considered dangerous, calling it a "crazy undertaking. Maisonneuve's reply will remain famous: "It is of my honor and you will find it good that I go up there to start a colony, even if all the trees of this island should change into as many Iroquois".
On May 8, 1642, as soon as the St. Lawrence River was finally freed from its ice, the expedition set out. Accustomed to the small rivers of France, the colonists were amazed by the magnificence of the St. Lawrence. On May 17, the light boat skirted the coast of the island and, the next morning, the expedition disembarked for its little celebration.
On this first day, the colonists set up camp and unloaded their supplies. On August 28, the missionaries proudly recorded their first baptism, that of a four-year-old Algonquin child, whom they named Joseph. When winter set in, the settlers had already built a wall of sturdy stakes, a large temporary residence for Governor de Maisonneuve and Jeanne Mance, and four small houses for other people.
The Iroquois attacked Ville-Marie:
The Iroquois learned of Ville-Marie by word of mouth. The village posed a threat to their trade routes. They reconnoitered on June 9, 1643, killing three men and taking three prisoners. The colony was soon under constant siege by Iroquois war parties.
Father Mercier, in his report of 1653, speaks of a valuable action, the circumstances of which are unknown to us, but which shows the protection of the Virgin Mary over the colony. The protection of the Queen of men and angels over this post, he says, appeared in a certain meeting in a very particular way. Twenty-six Frenchmen, being trapped in the midst of two hundred Iroquois, would have lost their lives had it not been for the Virgin's help. The Iroquois made a discharge on them, and fired two hundred shots without wounding or killing anyone. It is not that they did not handle their weapons very well; but it is that God wanted, in this attack, to visibly show the power of his Mother over those whom she has in her protection. The Blessed Virgin warded off the bullets of the enemies, and directed those of the French so well that they knocked down a number of Iroquois, and put to flight those who escaped death or significant injury.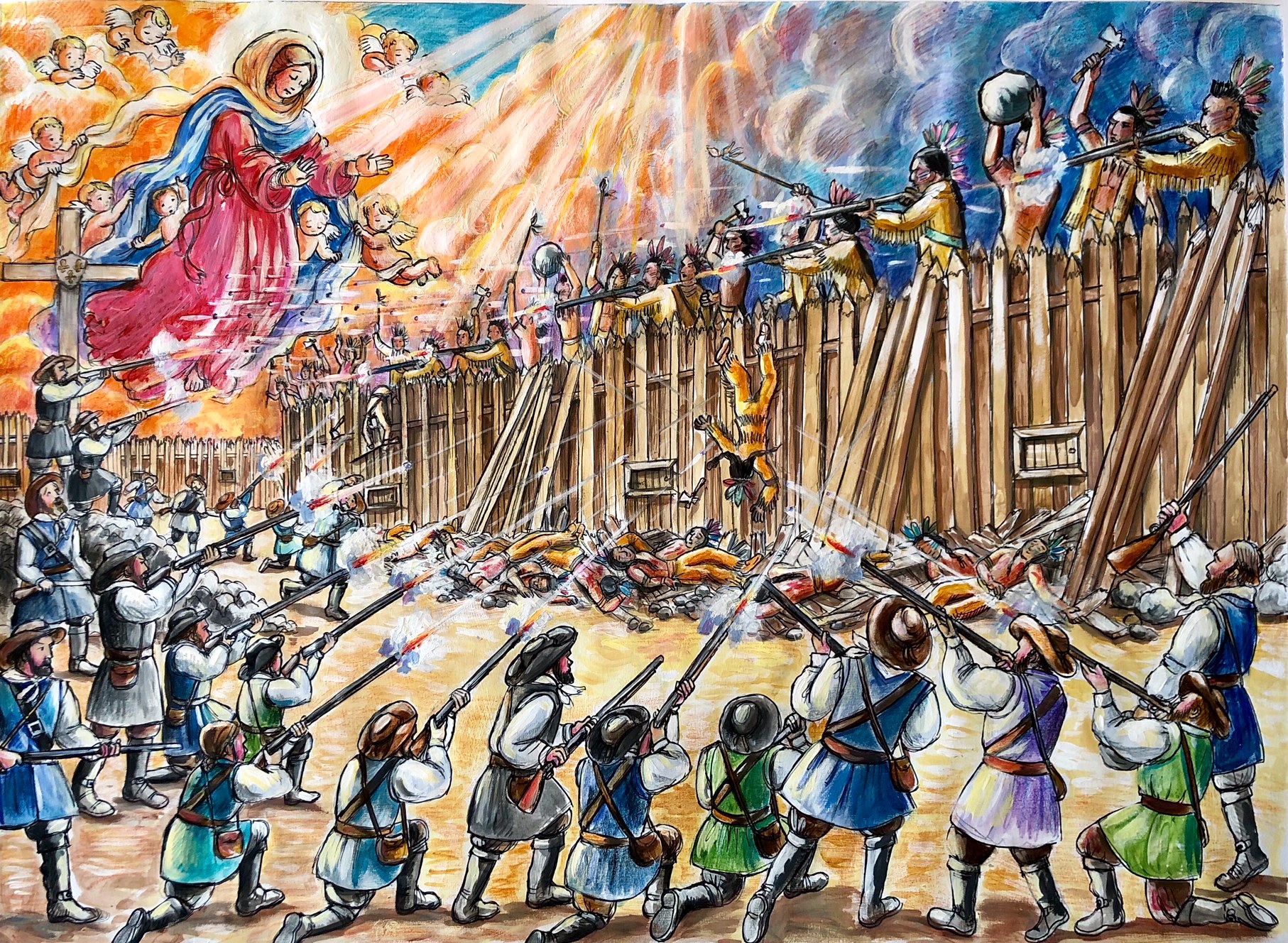 Source:
Abbé Faillon, Histoire de la  colonie française en Canada