A novena to Saint Joseph to find some caribou
In March, 1917, there was great distress in St Joseph's Orphanage, Fort Resolution, Great Slave Lake. The autumn fishing season had been a failure. In the winter the hunter had returned with empty hands. The caribou had not come to that neighborhood for years. Besides, this was the season in which they would be going back to the Farthest North, the shores of the Artic. Indian hunters, returning from the winter quarters of the caribou east of the lake, and 300 miles from Fort Resolution, had reported that the woods there were without a sign of life. And the winter fishing under the ice had been most unfortunate. In ten days Brothers Kérautret and Meyer had taken only four trout with seven hooks all at the same time let down in the depths over a great expanse of water. Going to examine his lines in the fog in forty degrees centigrade of frost, Brother Meyer in one spot went down, and was saved from a watery grave only because the long handled tool which he was carrying to break the ice elsewhere rested on the solid ice on each side of him. After this litany of misfortunes hunger was felt at St Joseph's Mission. There were 100 Indian children, ten Sisters of Charity, and as Many Oblates. Father Duport went to the children refectory, where they were going to eat their small rationed portion of roast fish. He told them it was their fault that there was so little to eat; the Brothers and nuns had done their very best. The poor children began to whimper, as if accused of eating too much. But the Father Superior said what he meant: "You have not prayed fervently enough to Saint Joseph." They promised to begin a novena at once, and to pray with all their strength. The Reverend Mother, being questioned, declared that not one less than 100 caribou would be needed to continue to feed the scholars alone. In two days, the last of the reserved and rationed provisions would have disappeared. Then and there the novena was begun.
  Father Duport desired two Indian hunters to get ready the sleds and start. They assured him there was not the least chance of finding anything. But he said: "Go. St Joseph owes us 100 caribou. Since they are needed, he will send them. Go and bring them to us." As they were be paid, they set out. After a two days' journey (a short journey in the North), the two hunters were amazed to see a greater number of caribou than they had ever seen together before moving forward to the lake's open surface and coming from the east, a quarter from which in Indian memory no reindeer had ever come before. The skillful hunters soon recovered from their surprise, took up good positions, and began to fire, sometimes bringing down two animals with one shot. When their task was over, they counted 103 caribou. At that moment the nuns and orphans in their chapel for the novena were (as it was reported) ''with heart-rending petitions'' beseeching St Joseph to send them every one of the 100 caribou which the establishment required. No wonder that Father Duport repeats with St Teresa that no one ever has recourse to St Joseph without being heard. The saint's interest in St Joseph's Orphanage and the Mackenzie Vicariate has been manifested on various occasions, other than the one of which we have told".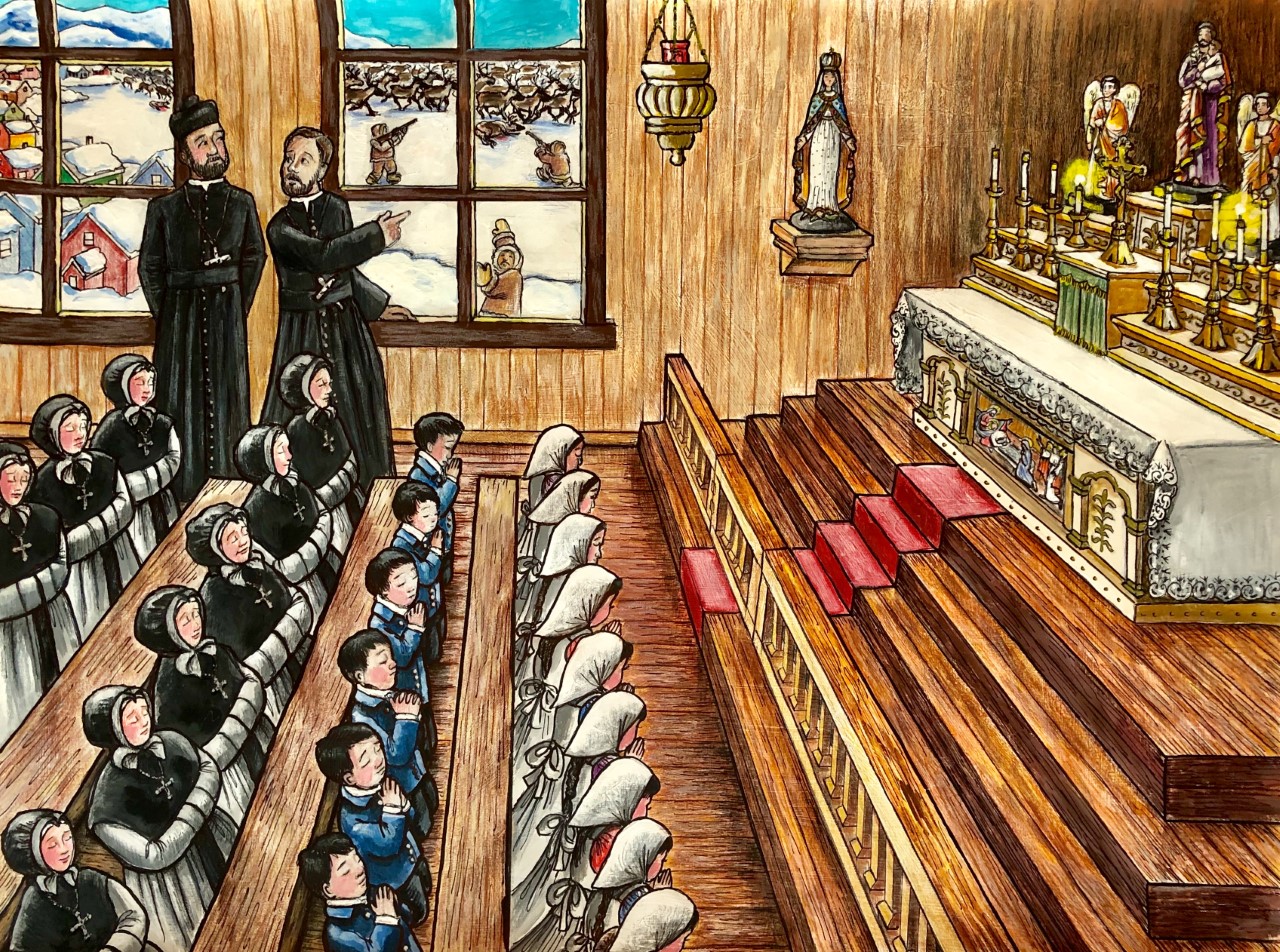 Source: 
Mid snow and ice, the apostles of the north-west, by the reverend P. Duchaussois, O.M.I