Sainte-Anne-de-Beaupré's shrine
Sainte-Anne-de-Beaupré was established in 1658, after an intervention of the good Saint Anne. The story goes that the crew of a small ship from Brittany was sailing up the St. Lawrence River to emigrate to Canada, when suddenly a storm arose in the night. Death was almost certain, when, remembering the good Saint Anne of their country, the Bretons promised her a sanctuary if she would save them from their peril. By morning, their ship had drifted ashore, and a blue sky shone overhead. Almost immediately they began construction of the chapel.
The first reported miracle at the site occurred during the construction of the shrine itself. A man named Louis Guimond was hired to help build the chapel, even though he suffered from rheumatism. After placing three stones on the foundation of the shrine, Mr. Guimond was cured of all his ailments. This was followed by other testimonies of healed people and the shrine quickly gained in popularity. Saint Mary of the Incarnation, foundress of the Ursulines of Quebec, also testified to these miracles in a letter written to her son on September 30, 1665: "Seven leagues from here, there is a village called Petit-Cap, where there is a church of Saint Anne in which Our Lord does great wonders in favor of this holy mother of the Blessed Virgin. The paralyzed walk there, the blind receive their sight, and the sick of any disease recover their health. "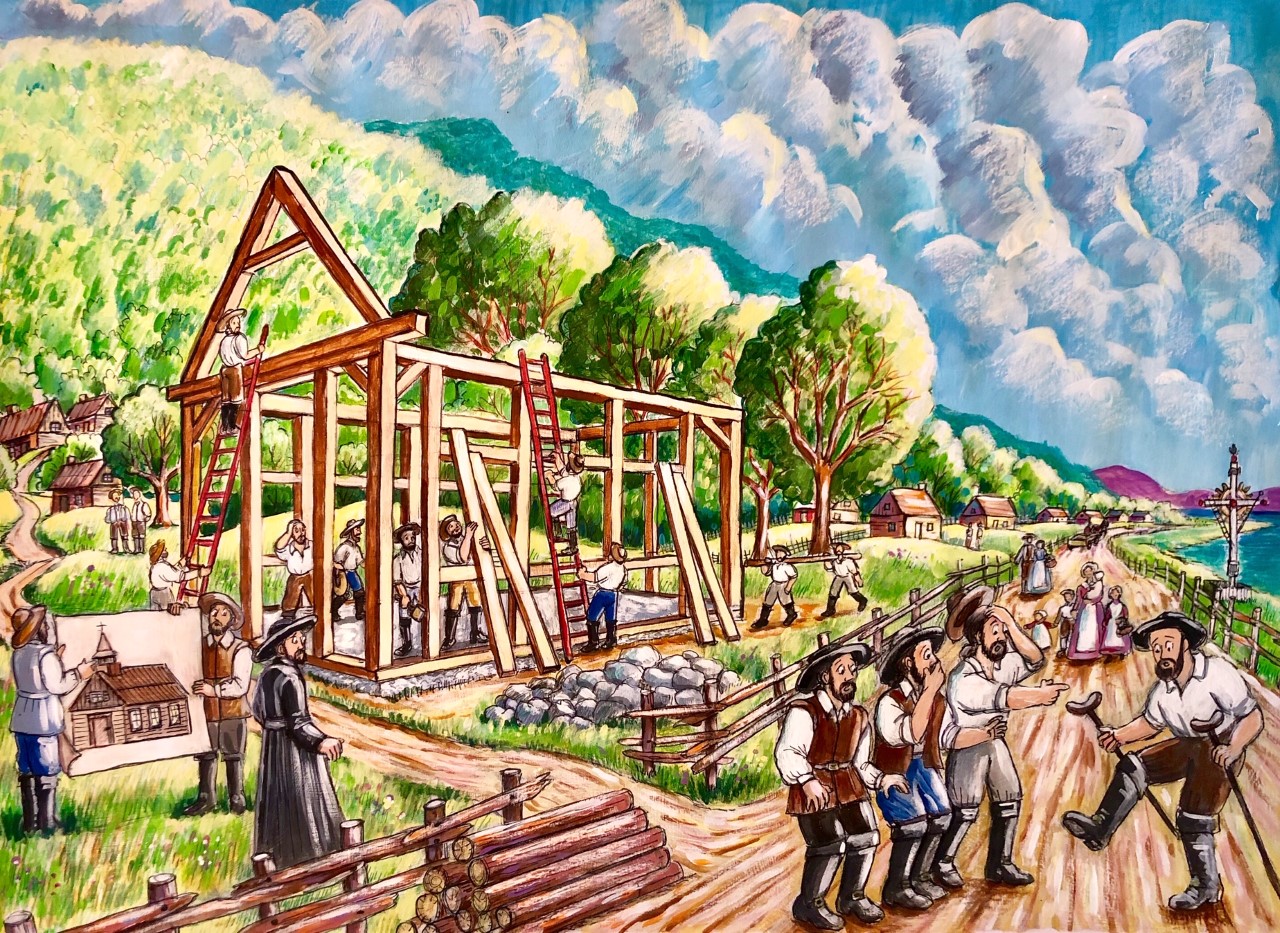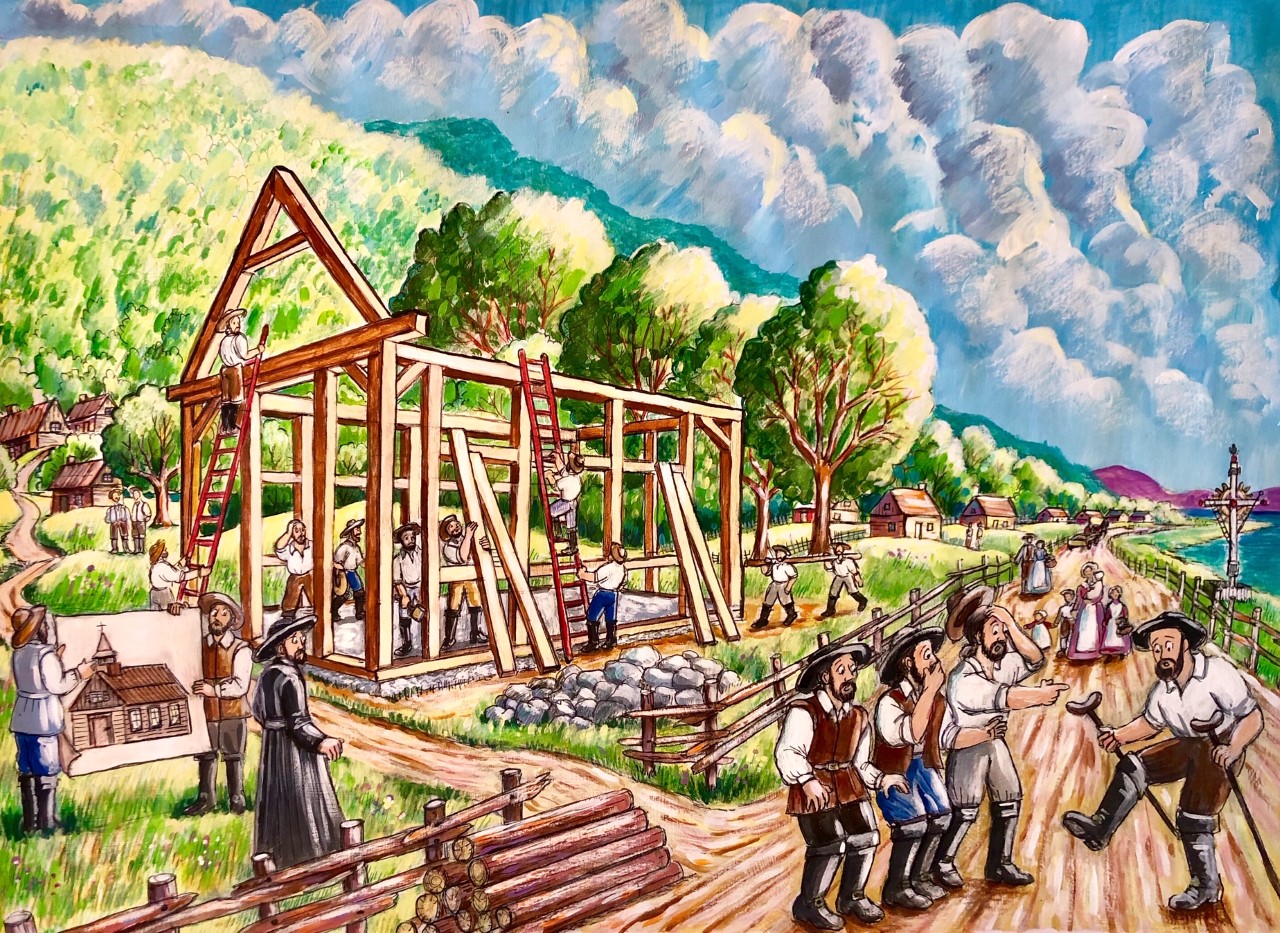 Who is Louis Guimond:
Born in the first half of the 17th century, Louis Guimond was born in the parish of Saint-Evroult de Champs (Orne, France). However the parish registers of this period having disappeared in this parish, his place of birth is not certain. He was hired on February 18, 1647 by Nicolas Juchereau, sieur de Saint-Denis for Jean Juchereau, sieur de More as a laborer for a period of 6 years for 40 livres tournois per year. The crossings there and back will be paid. He receives a pair of shoes and a woolen serge suit.
Louis Guimond could have arrived in Quebec City on August 6, 1647 aboard the ship "La Marguerite" which had left La Rochelle two months earlier. He was miraculously cured of an infirmity by coming to lay "three small stones in the foundations" of the chapel known as "es matelots" in Sainte-Anne-de-Beaupré. The news of the cure, duly attested by Abbot Thomas Morel and authenticated by Bishop François de Laval, spread and Sainte-Anne du Petit-Cap, which would become the Sainte-Anne-de-Beaupré Basilica, became a popular place of pilgrimage.
He settled in this parish with Jeanne Bitouset, a Parisian, married on February 11, 1653 in Quebec City. He lived there until the tragedy of June 18, 1661, when he was captured by the Mohawks, the most warlike of the Iroquois nation, who took him to their territory beyond Lake Champlain, in the Albany region. 
Under the signature of Father Jérôme Lalement, a letter written on a birch bark by François Hertel, aged 19, captive of the Agnieronnons, and sent to his mother and then to Father Simon Le Moyne, gives us the proof of his martyrdom, at the beginning of July 1661.  "He was beaten with canes and iron rods; he was given so many blows that he died under them. However, he only prayed to God, so much so that the Iroquois, enraged to see him move his lips to pray, cut off all his upper and lower lips. How horrible to see! And yet he did not let him pray; which so displeased the Iroquois that they tore his heart out of his chest, still alive, and threw it in his face. "
Saint Anne, patron saint of Quebec:
In 1876, the episcopate asked the Holy See to proclaim St. Anne patroness of the province of Quebec, we read the following note in the mandate of the archbishop of Quebec: "without prejudice, however, to the title that has been held since 1624 by St. Joseph, husband of the Blessed Virgin Mary, as patroness of all of Canada. This request was granted.
Sources: 
http://www.perche-quebec.com/files/perche/individus/guimond-louis.htm