The two miraculous statues of Sainte-Anne-de-Beaupré
First miraculous statue :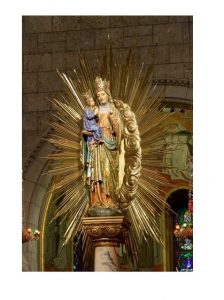 On March 29, 1922, the Basilica of Saint Anne de Beaupré, famous throughout North America as a place of pilgrimage and for the many miracles that were performed there through the intercession of Saint Anne, was struck by a great misfortune. A fire broke out in the morning, around 9:00 a.m., in the monastery of the Reverend Redemptorists who are in charge of the Shrine of Saint Anne. The fire spread quickly from the Juniorate to the presbytery and the sacristy. As soon as the Fathers discovered the fire and realized its seriousness, they asked for help from Quebec City. Mayor Samson immediately sent a detachment of the fire department on a special train.
     At 11 o'clock, the Juniorate, the presbytery and the sacristy were completely destroyed, and the fire was already beginning to spread inside the Basilica. At noon the towers of the Basilica collapsed as well as the walls of the church and the monastery. It was a total loss. We managed to save a few valuable historical souvenirs. Despite the great distress, a miracle occurred. The good St. Anne showed her dear grandchildren that she was still watching over them. This beautiful golden statue, which was on the façade and was made of wood, miraculously survived the flames. Nowadays, it is perched on the façade of the new Basilica.
Second miraculous statue: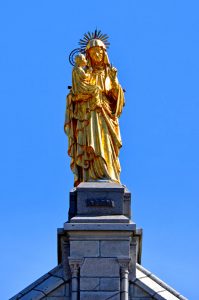 Inside the Basilica of Sainte-Anne-de-Beaupré, in the north transept, is another miraculous statue of Saint Anne. It is made of polychrome wood, sculpted in 1927 by Jules de Vischer, Brussels, Belgium. It is based on the model of a first miraculous statue produced in 1881 by the workshop Mathias Zens, whose successor was Jules de Vischer. This statue is said to be miraculous because many pilgrims have obtained favors, such as healings or conversions. It seems that the sanctuary records about forty miracles each year.